Global Flavors Inspire Exciting Breakfasts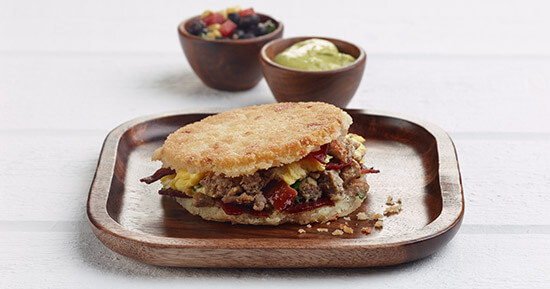 Ethnic-inspired breakfast items and traditional ethnic breakfast items both appeared in the National Restaurant Association's "What's Hot 2013" survey for breakfast trends. They note that "inspired" items like Asian-flavored syrups, chorizo scrambled eggs and coconut milk pancakes, and the more "traditional" items like huevos rancheros, shakshuka and ashta, can really help your menu stand out. Embracing the trend in your operation can mean attracting more flavor-seeking diners.
To get started on your menu, pick something simple like an omelet and get inspired. Then add key ingredients that would make it uniquely ethnic. To go Greek, you'd just add feta cheese, onions, spinach, black olives and roasted red peppers. You can even let them customize it by adding in their favorite protein.
Once you've mastered ethnic-inspired flavors, go authentic and add other cultures' breakfast staples on your menu. Huevos rancheros are a traditional Mexican dish consisting of fried eggs on a lightly fried corn tortilla, topped with a tomato-chili sauce. Try Middle Eastern flavors with shakshuka, which is eggs poached in a sauce of tomatoes, chili peppers, onions and cumin. Offer Japanese cuisine with omurice, an omelet made with fried rice and usually topped with ketchup.
Once customers try the flavorful dishes in the morning, their cravings for other ethnic-styled breakfast options will ensure they'll be back for more. Try some of these ideas, and check out our Inspiring Recipes for even more menu help.
Turkey Hash & Eggs: Freshly prepared turkey hash with poached eggs and crispy French bread toast.
Turkey Benedict San Antonio: Turkey quesadilla topped with sliced avocado and scrambled eggs. Serve with roasted corn & black bean salsa.
Jerk Turkey Omelet: Omelet prepared with zesty jerk-spiced turkey with Gruyère cheese. Served with sautéed crisp apples.
SOURCE:
National Restaurant Association, What's Hot 2013 Chef Survey