Happy Employees, Happy Operation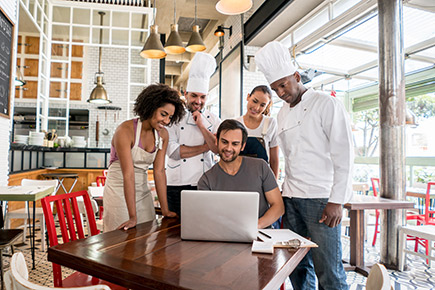 It's no secret that restaurants and other operations have had difficulty maintaining entire teams and keeping current employees content in the times of COVID-19. Workers in the food service and hospitality sector have been resigning at record levels and not returning, making it nearly impossible to maintain necessary staffing levels. According to the Bureau of Labor and Statistics, as of May 2021, restaurants employed 10.8 million workers, short of the pre-pandemic base of 1.5 million workers.
The labor challenges being faced by so many in the industry suggest that now is a critical time to understand better what motivates workers and how to translate those motivations into ways that increase retention. So, why are so many workers leaving the industry? For those under 25, schedule and school were the top reasons, and for those over 25, manager recognition was a significant factor.
So, how do you entice employees to stay at your business longer than a three-month window? Making sure that they are fairly compensated is incredibly important for employee retention. Be sure to offer competitive wages in line with other local businesses and comparable positions. Also, consider providing recognition in the form of bonuses and promotions, knowing that, according to 7shifts.com, almost 70% of employees find them highly motivating.
Aside from pay raises and bonuses, the most important contributor to employee satisfaction is the culture. Having hospitable, friendly employees is a much-needed part of retaining quality staff. This will also affect your bottom line. According to Deloitte, 60% of guests say that a great staff would cause guests to frequent a restaurant more than one with rude staff. Service is everything and key to a great experience.
In closing, broad research like the one conducted by 7Shifts can be a great beginning resource, but if you want to better understand your team and what makes them happy, consider an anonymous survey. This will help offer a snapshot that's more specific to your operation.
What do you do for you to ensure employee satisfaction? Please share your thoughts on our Facebook or LinkedIn page. Or visit our Resource Center for more tips and trends.
Sources:
https://modernrestaurantmanagement.com/mrm-research-roundup-2022-restaurant-trends/
https://www.7shifts.com/blog/restaurant-employee-engagement-study-and-survey/
https://www2.deloitte.com/us/en/pages/consumer-business/articles/restaurant-customer-experience-strategy.html