How the Food Industry is Responding to Calls for Sustainability
January 2023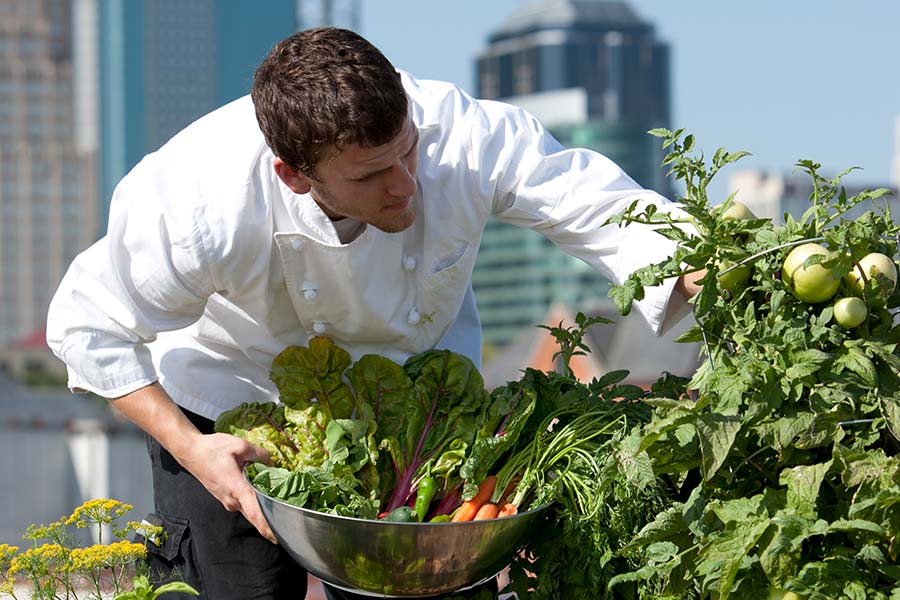 While the pandemic forced operators to shift their sustainability initiatives to the back burner, now is the time to refocus. According to a 2022 study, 20% of consumers said that climate change concerns had a "major impact" on their food choices, and 40% of consumers say they intend to adopt more sustainable practices in their post-pandemic lives. Now they are asking restaurants to follow suit by committing to eco-friendly practices. Here are three ways the foodservice industry is responding to this demand.
Incentivizing Sustainability Efforts
To meet their company's sustainability goals, some operations are tying them to executive compensation. In 2022, Chipotle increased its goal of buying at least 57 million pounds of organic, transitional and/or locally grown ingredients, from 55 million pounds in 2021. The chain then based up to 15% of its officers' annual incentive bonus on achieving sustainability goals like this. Casual dining chain Noodles & Company has similarly tied executive annual incentive plans to meeting goals like advancing animal welfare standards, minimizing food waste and purchasing more environmentally friendly packaging.
Switching to Sustainable Packaging
Consumers want restaurants to be accountable for their part in generating waste. The Environmental Protection Agency stated that as of 2018, packaging made up a "major portion of municipal solid waste, amounting to 82.2 million tons of generation." The increase in off-premise dining during the pandemic sent even more of this waste to the landfills. While customers want their takeout or delivery orders to be accurate, spill-free and sanitary, they also want restaurants to use more eco-friendly containers. According to Kerry's 2021 Sustainability in Motion report, 58% of North American consumers say they are strongly influenced by sustainability when making a food or beverage purchase at a restaurant. Highlighting the switch to more eco-friendly packaging will not only have a more positive environmental outcome, but will also capture the attention of these diners, driving traffic and profits.
Learn more about other well-publicized initiatives from major restaurant chains and franchises, including Chipotle's sustainability tracker, Panera's menu callouts for climate-friendly foods, and Burger King's and McDonald's plans for recyclable/reusable packaging.
Adopting Tech Solutions
Paper accounts for one of the most significant sources of restaurant waste other than food. Discarded thermal paper from physical receipts, for example, can release harmful chemicals into the atmosphere. Recent supply chain disruptions requiring quick menu changes meant more frequent menu reprints and more paper waste. By integrating tech solutions like QR codes to display menus or using digital ordering platforms such as Toast for payments, operators have been increasing efficiency and satisfying customers while reducing waste.
Restaurants that make the effort to adopt sustainability measures will earn the praise of diners and critics alike and help improve the health of the planet. What sustainability efforts will you adopt in your operation? Let us know on our Facebook or LinkedIn pages. Or visit our Resource Center for more tips and trends.
Sources: