How to Encourage Diners to Stay Longer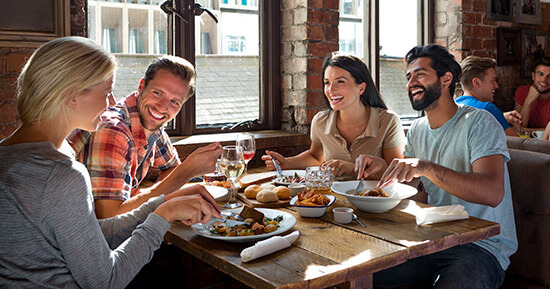 Increasing traffic is an important way for operators to boost sales, but so is taking care of those already at the table. Generally, the longer customers stay, the more money they spend. While operators don't have total control over the duration of visits, adding several elements to the dining experience can help restaurant-goers take their time.
Here are a few tips to get your patrons to linger for longer:
Keep doggie bags by the door. A clutter-free table, especially one without food that's ready to go and in need of refrigeration, reduces the urgency of leaving and opens up the opportunity to order drinks or desserts. Diners at the upscale restaurant Somerset in Chicago receive a ticket number for their leftovers and grab their containers from the host stand as they make their way out.
Lead the charge. Phone charging stations can entice people who are running low on battery to dine at restaurants they may not initially consider. Parlor Pizza in Chicago provides cubbies that are accessible with a code so patrons can dine comfortably knowing their devices are safe. For restaurant operators who already have a setup for adding juice to batteries, make sure to draw attention to it. In addition, providing complimentary Wi-Fi to guests can lead to more time spent at restaurants.
Play the right tunes. Background music affects diners, from their mood and menu choices to even how fast they eat. Slower songs lead them to take more time to finish their meals. Consider playing classical, jazz or pop music to create a comfortable environment that patrons won't want to leave.
Tempt with dessert. A classic way to extend guests' meals is a wide selection of indulgent confections. Rather than treating these goodies as an afterthought, use social media to promote them. Bring variety and attention to desserts by offering on-trend flavors, house-made options, savory treats and new takes on traditional favorites.
How does your restaurant encourage customers to stick around? Share your ideas with us on Facebook or LinkedIn. For more business and culinary pointers, visit our Tips page.
SOURCES
Wirth, Sara Rush. 50 Great Ideas, Restaurant Business, July 2018.
Dexmier, Anthony. Why You Should Have Charging Stations In Your Restaurant, RestoConnection, September 2017.
5 Benefits of Offering Free WiFi to Restaurant Customers, Kinetic Business by Windstream, December 2018.
Mega, Laurie. How Playing The Right Restaurant Music Can Make You More Money, 7shifts, January 2019.
Navarra, Theresa. 13 Sweet Ways To Market Your Dessert, Restaurant Insider, April 2018.