Individually Wrapped Products Can Provide Greater Efficiency for Your Operation
August 2021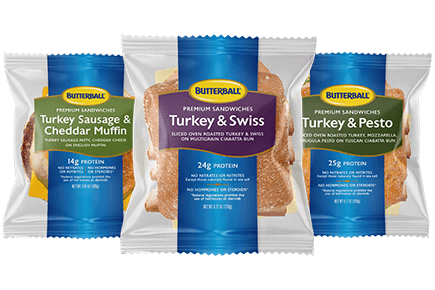 In the wake of the pandemic, operators have been faced with many challenges, such as reduced staff and difficulty training, and are looking for ways to increase operational efficiencies. It has been a trying year to say the least, and businesses are looking to streamline their operations, now more than ever.
In doing so, 46% of non-commercial operators have added more prepackaged grab-and-go products. Many note that such items will become permanent offerings as they look to manage the gradual increase in traffic alongside evolving pandemic anxieties.
It's important to provide quick items that consumers crave during a busy day at work, between classes on campus, or for any scenario where they're eating on the go. But individually wrapped products are now also a necessity for diners who remain wary of away-from-home establishments in a COVID-19 world.
According to Datassential, 20% of consumers say that food assembled in front of them is "too risky" from a health point of view, while 38% said that ordering prepared foods from a grocery or convenience store is not risky. Even in restaurants, guests felt that serving everything individually wrapped would make them feel safer as a whole.
Butterball is here to continually support operators by offering five flavors of new individually wrapped turkey sandwiches. From Turkey Sausage, Egg & Cheddar Cheese on Biscuit, to Turkey Mozzarella & Arugula Pesto on Ciabatta, these premade and prewrapped sandwiches require little to no prep and respond to the growing demand for grab-and-go products.
Prepackaged foods can be an incredible way to showcase menu flexibility, ranging from sides and pairing options to sandwiches and desserts. Offering Butterball's individually wrapped sandwiches means delivering delicious options in a safe and diner-friendly format, from the turkey brand that consumers know and trust.
Check out these prepackaged products on our products page for more information.
SOURCES:
COVID-19 Report 54: Turning the Corner, Datassential, June 2021.
Individually Wrapped Products, Butterball Foodservice, 2021.
The Magnificent Seven, Datassential, June 2021.