It's the Perfect Time for Pizza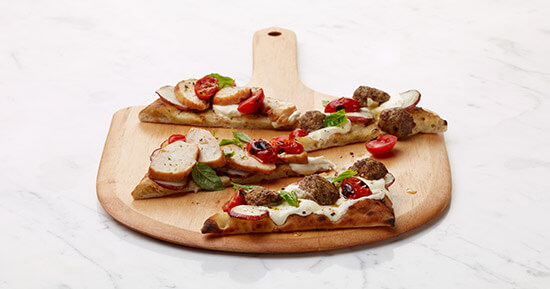 Pizza is one food that patrons will always love, no matter how much their palates change or how health-conscious they become. About 93% of Americans say they eat at least one pizza every month. Passing menu trends don't faze pizza's popularity. From ethnic-inspired cuisine to gluten-free menus and vegetarian options, pizza easily evolves to meet a wide variety of customer cravings.
Since pizza is such a common offering, it's important to make your options stand out from the competition. Find inspiration from the latest trends to put a twist on your usual pizza recipes. Or, if you're not currently menuing pizza, now's the perfect time to start. Consider these ideas and tips:
Pizza can meet your diners' special dietary needs. It's the second most popular gluten-free dish—38% of gluten-free menus include pizza. It's also easy to make tasty vegetarian pizzas.
You can make pizza a lighter option. It doesn't have to be full of fat and calories to taste delicious. Pepperoni, sausage, bacon and hamburger are all popular pizza proteins. You can easily make pizza appeal to health-conscious diners by using turkey bacon, sliced turkey medallions or crumbled turkey sausage instead.
It's easy to make your menu trendy with pizza. Adventurous diners will love to try new pizzas with on-trend toppings, like fennel, arugula, egg and truffle oil.
Introduce your patrons to artisan pizza with a tasty Turkey Pizetta. Start with a prepared whole wheat crust or flatbread, and then top with house-made raspberry chipotle barbecue sauce. Sprinkle with cilantro leaves, red onion slices, manchego cheese, smoked Gouda and sliced turkey medallions. Bake until golden brown and serve.
View our Innovative Recipes for more menu ideas and on-trend inspiration.
SOURCES
https://www.franchisehelp.com/industry-reports/pizza-industry-report/
http://www.pizzamarketplace.com/article/227399/Pizza-is-now-the-second-leading-gluten-free-dish-on-all-menus?rc_id=312