New Ways to Make Your Burger Menu Sizzle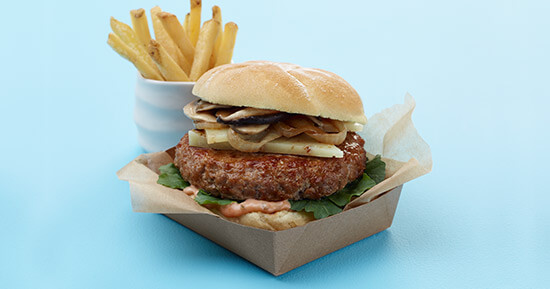 The popularity of burgers continues to grow—68% of consumers say they eat a burger at least once a week, and 95% say at least once a month. Mainly driven by cravings, these burger purchases mean big business.
Try combining these three aspects to create the ultimate better burger menu in your operation:
Quality. Go for upscale ingredients and toppings to keep diners interested and increase your check averages. Make your menu descriptions more detailed to amp up your quality message. Instead of iceberg lettuce, try baby spinach. Use aged Cheddar or blue cheese for distinctive flavor. Add a fancy touch with truffle oil or a house-made aioli, rather than your typical ketchup and mayonnaise.
Variety. Be sure to have the options your patrons are looking for. About one-quarter of consumers said they would visit limited-service operations more frequently for burgers if non-beef options were available. Turkey burgers are a great alternative for health-conscious diners or those seeking something different. In fact, the incidence of turkey burgers on menus increased almost 50% between the fourth quarter of 2012 and the fourth quarter of 2013.
Customization. Your diners know what they like, so give them the chance to create their own menu favorites. Nearly two-thirds of consumers are interested in build-your-own burger concepts, and 64% think customizable toppings and condiments are important.
Summer's right around the corner, and the better burger trend is here to stay. Now's the time to prepare your menu with the variety of quality ingredients patrons are looking for. Try our delicious turkey burger recipes for inspiration today.
SOURCES
Burger Battle: The Better Burger Continues to Gain Market Share, Foodservice and Hospitality, 2014
Burger Consumer Trend Report, Technomic, 2013
Healthful Turkey Cuts Across All Dayparts, Menu Categories. NRN, 2014