Non-traditional Turkey Sandwiches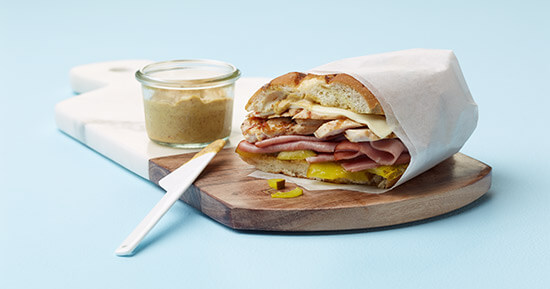 Expand your sandwich offerings—use these quick menu ideas to inspire creative turkey sandwiches. Pair them with a side of roasted vegetables for delicious dinner offerings, or package them up for your busy lunch patrons on the go.
Turkey Reuben—Use smoked turkey breast in place of corned beef for a refreshed version of this deli favorite.
Turkey Muffuletta—A Crescent City classic, the muffuletta is known for being a calorie bomb. Lighten it up by using turkey salami, smoked turkey and turkey ham in place of the usual proteins.
Turkey Spiedies—This Italian-inspired sandwich popular in New York is usually made with chunks of marinated chicken, pork, lamb or beef. Give it an interesting flavor twist by using tender turkey thigh meat instead.
Turkey Cuban—A Cuban sandwich typically features ham. You can imitate the salty, savory flavor with turkey ham, or give it a new spin by using turkey breast.
Turkey Torta—Turkey can take on any flavor profile, so why not use it in a hearty Mexican-style sandwich? Try turkey breast, seasoned turkey medallions or even a sliced turkey breast filet.