Online Ordering: The Win-Win That Is Here to Stay
October 2021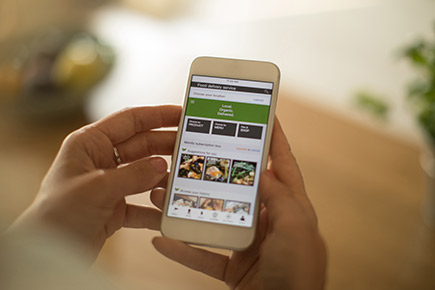 When it comes to how consumers interact with restaurants, it's very clear that COVID-19 has created massive shifts. But the shift that appears most likely to endure beyond the pandemic is the meteoric growth of online ordering. Why? Just as it's a win for customers who want low-contact convenience, it's also proving to be a major victory for operators' bottom lines.
According to Upserve, from February 2020 to April 2020, there was a 169% increase in the number of restaurants actively using online ordering. In fact, Forbes notes that one in four restaurants added online ordering between March 2020 and January 2021. Though many of these investments were initiated out of desperation, the returns are helping operators on a level that few could have predicted.
For one, customers have really taken to getting their meals through digital channels, and they're showing no signs of slowing. According to the Boston Consulting Group, digital ordering represented 28% of all orders at the end of 2020, compared with 10% before the pandemic. Additionally, market research company Incisiv predicts digital sales will make up 54% of limited-service and quick-service business by 2025, effectively turning a short-term fix into a permanent, revenue-driving solution.
Perhaps even more interesting are the indicators that show how online ordering has served as an impressive acquisition and loyalty driver. The 2021 Paytronix Order & Delivery Report points out that "a significant portion of the guests who ordered online from a brand for the first time in 2020 had never interacted with it – online or in-store previously." The same report shares that while less than 20% of all online orders were from net-new guests in the first three months of 2020, that figure jumped to 60% by mid-May. Furthermore, it notes "the majority of the guests who ordered from a particular brand for the first time in 2020 made return visits online, boosting the overall customer base for many."
Yet undoubtedly the most encouraging aspect for operators is that guests who order online are not only significantly more loyal with their business, but also more liberal with their wallets. The National Restaurant Association finds that consumers who have placed an order online visit the restaurant 67% more frequently than those who have only ordered on-premise. They also spend 26% more than they would have in-store.
The numbers tick even higher for those who choose delivery over take-out. Data from the Paytronix report shows that guests who placed online delivery orders spent an average of 10% more than their takeout counterparts. And for restaurants that use their own couriers, delivery customers shelled out an average of 21% more than takeout guests, versus about 10% for establishments that use a third-party delivery service. The difference is likely due to the delivery fees charged by the third party. So, for operators considering bringing their delivery services in-house, there's reason to believe it's worth it. When it comes to loyalty, delivery customers take the cake there too. The Paytronix report shows that the average delivery customer places an order 2.5 times each month, whereas the average takeout guest clocks in at 2 orders over the same time period.
As the industry emerges from the pandemic, there will clearly be a new balance of in-person and online customer interactions. It appears that the operators who can stay on top of innovations on the digital side will benefit the most.
Has online ordering impacted your operation? Share your thoughts on our Facebook or LinkedIn page. Or visit our Resource Center for inspiration on how to best prepare your business for the future.
SOURCES: