Prepare your Operation for Winter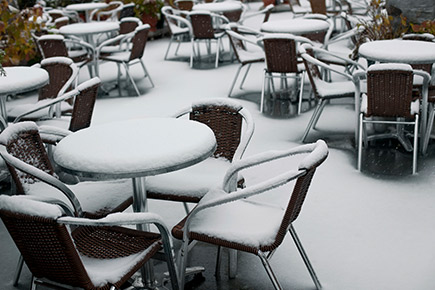 As we move from fall to winter, seasonal measures that operators need to take will vary across the country. For those located in colder climates, here are four tips that will help prepare your establishment and your team to ensure customer safety and continued operational efficiency throughout the coming months.
Tend to your equipment. Make sure all equipment is properly cleaned and routine maintenance is up to date. Cleaning everything, from refrigerator condenser coils to thoroughly washing your fryers and ranges, is incredibly important to improve efficiency during the winter. When it comes to steps like calibrating your oven, or checking on the plumbing, contact a certified technician. A technician should also inspect your HVAC system, checking and replacing air filters as needed and ensuring that vents are clean and unobstructed. Doing so will help keep your heating costs where they should be. Colder months and winter storms can also bring power outages. If you're able, consider investing in a generator to ensure that your staff and guests are never interrupted by a bout of bad weather.
Stock up on supplies. Now is the time to make sure you're fully stocked. Make a checklist, ensuring that you have plenty of shovels, rock salt, first aid kits, flashlights and extra batteries. You may not end up needing them, but it's better to be safe than sorry. It's easy to forget during the warmer months how brutal winter can be on your establishment. Other items you should have on hand include extra floor mats, caution signs and tool kits. If possible, consider an electric heated air curtain for your doorway, to prevent constant cold air from flowing into your dining room.
Plan for snow. When it comes to snow removal, you'll need to have a plan. While it may be reasonable to ask staff to shovel a small area in front of the door, be sure to hire a professional to plow parking lots and areas directly surrounding your establishment, as well as clear and salt highly trafficked walkways.
Winterize outdoor spaces. COVID has increased the demand for al fresco dining well beyond the typical season. Even as vaccination rates continue to increase, the expectation for outdoor dining spaces will continue. In response, make your outdoor space comfortable and relaxing, fitted with heating elements to make your patio operational during cold months. Commercial patio heaters are a great way to accomplish this, providing warmth throughout the outdoor space. Replacing metal furniture with tables and chairs that better retain heat and keeping your furniture inside when not in use are other great ways to make sure guests stay comfortable. Providing insulated blankets and cushions will not only help them bundle up but is also a great way to showcase hospitality. Be sure that the blankets are single use only, though, and are laundered daily.
These are just a few suggestions to make sure your restaurant is ready for winter. But obviously, your menu is what will bring guests back again and again. Traditional comfort foods like chili, soups, rich stews, roasted vegetables and braised dishes will have no problem making your guests smile. Consider pairing with a delicious seasonal beverage menu as well. Get creative with your own take on mulled ciders, teas and pumpkin coffee drinks to boost check averages, and leave your guests feeling warm and satisfied.
Are you ready for winter? Share your thoughts on our Facebook or LinkedIn page. Or visit our Resource Center for more tips and trends.
Sources:
https://www.wasserstrom.com/blog/2018/11/01/prepare-your-restaurant-for-winter/
https://www.webstaurantstore.com/blog/1524/winter-is-coming-preparing-your-restaurant-for-colder-weather.html
https://blog.trycake.com/patio-chill-prepare-outdoor-seating-area-cold-weather