Prepping for a Successful Summer: Two Steps Restaurants Can Take Now
April 2021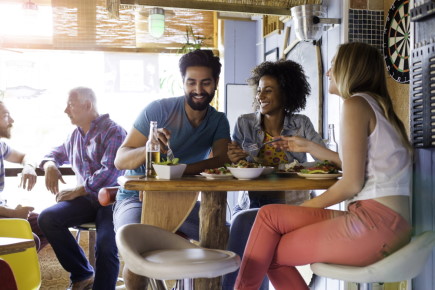 As the weather starts to turn in many areas of the country, operators are tweaking their menus to align with summer flavors. At the same time, many are also preparing for outdoor dining, which will be especially in demand this year. While these efforts certainly make for a busy spring, they can help drive a lot of traffic in the crucial coming months. Below are some considerations to help with each of these two important steps.
STEP 1: BRINGING ON-TREND FLAVORS TO YOUR MENU
As summer approaches, consider getting creative and keeping it simple with trending ingredients that you'll likely have on hand:
Crazy for corn.
Corn appeals to 56% of diners. Try using corn on pizza entrées, an application which has grown 4% over the past two years. Purple corn is also an emerging ingredient and can even be incorporated as a spotlight in beverages. Try menuing this Turkey Burger Fajita Salad, which includes corn and other fresh vegetables that are perfect for warmer weather.
Cucumbers are cool.
Cucumber appeals to 53% of consumers. Consider using cucumbers in sodas for a unique and refreshing lift, which could be especially tempting to those eating outside on a warm day. Or feature the cool crispness of cucumber in global dishes such as this Turkey Kofta.
Eggplant is in.
Eggplant appeals to 32% of consumers. As we approach summer, consider bringing eggplant out to play as the star in Greek dishes. Or let it complement an adventurous main like this Mediterranean Turkey Burger.
You say tomato. We say trending.
Tomato appeals to 56% of consumers. Additionally, there has been a 110% increase of tomatoes on avocado toast over the last two years. Play to the trend by adding cherry or sliced tomatoes to this Turkey Bacon Avocado Toast, making for a truly memorable dish.
Fruit forward.
Lemon, cherry and peach continue to be trending ingredients, and they can be worked into beverages, salads, fresh salsas or even relishes like the one found in these Moroccan Turkey Pavés.
STEP 2: SAFELY WELCOMING GUESTS TO DINE OUTSIDE
Once you've refreshed your menu, make sure your outdoor space is ready to seat eager diners.
Naturally, weather is the first consideration when guests are deciding whether to dine al fresco. Because of this, it's crucial to ensure customers feel comfortable and protected in various outdoor conditions. By investing in motorized awnings or pergolas instead of static structures, restaurant owners can let the sun in when the weather is beautiful, further enhancing the dining experience. Depending on the restaurant's region and setting, motorized screens can also be useful for keeping bugs from buzzing into your guests' space.
It's worth noting that there has been a lot of innovation in this space. Just in the last few years, a number of "smart" awnings and shades have hit the market, not to mention lighting and heating solutions. These products can be controlled with a remote, an app on your device or even your voice. Such an investment could be worth it if it gives the staff more time to tend to guests.
Speaking of staff, it's important to remember that keeping them comfortable will help keep morale up and guest satisfaction high. Supplying them with short-sleeved, breathable clothes for hotter days and long-sleeved attire for cooler evenings will help them stay at their best when working outside.
Each spring is also a great time for operators to pretend they're a first-time guest and scan the outdoor area from an aesthetics perspective. They can ask themselves if there are opportunities for cleaning or upgrading décor, signage, environmental elements or furniture that may have been left unattended during the winter.
Lastly, although the obvious benefit of a welcoming outdoor space is peace of mind and safety related to COVID-19, it remains vital to stay on top of recommended sanitizing, distancing and air quality guidelines. Bear in mind that for more temporary setups, breathable fabric will encourage air flow more so than plastic or vinyl. Additionally, be sure to create enough space to allow for a minimum of six feet between tables and plenty of room for foot traffic. And of course, make sure your staff is clear around expectations for cleaning and sanitizing as they're turning tables.
Have you made any big pivots with your menu or seating? Talk it about on our Facebook or LinkedIn page. For more insights and ideas, visit our Resource Center.
SOURCES
Season's Eatings, Technomic, Summer 2021.