Q&A: How to pair vegetables with turkey for nutritious meals students will gobble up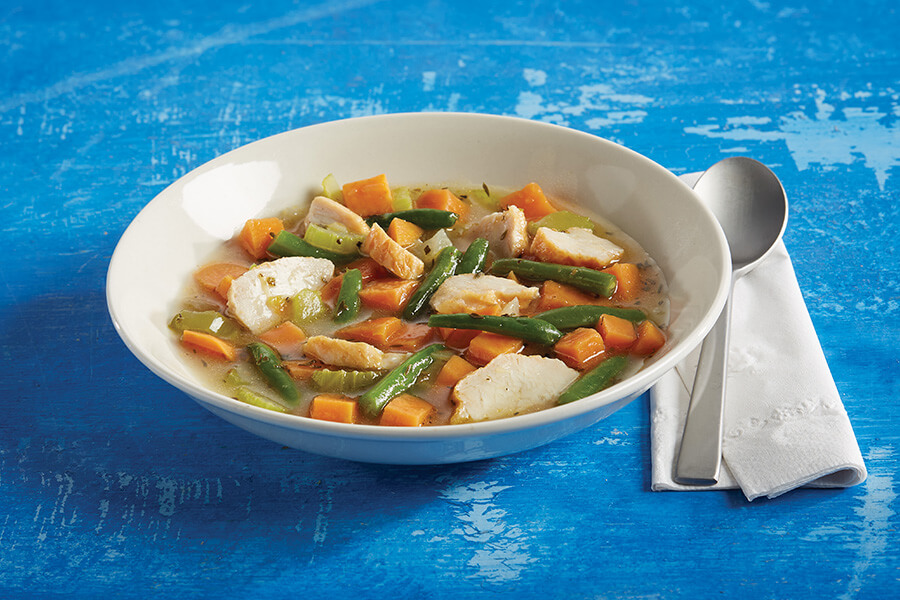 This article was originally featured in SmartBrief in February 2023.
Creating nutritious meals that appeal to students' palates is an everyday challenge for school foodservice operators. Centering a meal around a familiar and versatile ingredient can go a long way in getting students to fill their plates with vegetables and try new foods. In this interview, chef and nutritionist Brenda Thompson-Wattles discusses the advantage that turkey gives school foodservice operators when it comes to creating nutritious meals that students will love.
What are some of the challenges school foodservice operators face when trying to come up with meals and snacks that encourage students to eat more vegetables?
I started working in child nutrition in 2008, which was right at the time when school foodservice operators were anticipating and wondering what the Healthy Hunger-Free Kids Act regulations would look like. When the new regulations were put into place in 2010 there was a huge shift and big challenges for foodservice operators and their kids. At that time, I was a contractor for the Idaho State Department Child Nutrition Programs. One of the first training sessions I taught was called "Fruits and Vegetables Galore". As a dietitian and chef, I was excited to be part of a movement that encouraged students to eat more vegetables. Many fruits already had a history of being a kid favorite. Vegetables were often a hard sell. At first, kids were tossing a lot of vegetables in the trash. However, that did not stop school nutrition professionals from sticking to our mission to serve healthier food to our kids. We kept going because we knew that it often takes kids about 10-20 times to try a food before they will actually like it. Thank goodness that we did because today, we have some schools who have a hard time keeping up with the preparation that it takes us to process the amount of vegetables that students eat. We did it! However, now we are faced with new challenges which are teaching culinary skills, such as efficient knife skills in order to keep up with the demand.
Another challenge that we are faced with today is keeping kids excited about vegetables. And to keep trying with those students who still do not like them. We know our kids' palates are getting more sophisticated and they often eat with their eyes. Therefore, we must come up with new vegetable recipes that are trendy. Oftentimes, that means that the vegetables are incorporated into the entrée, such as shredded cabbage in orange turkey, steamed vegetable mixes (i.e. broccoli, carrots, and cabbage) with rice bowls, and bell pepper and onion blend with fajita sandwiches.
How can pairing vegetables with a versatile protein like turkey help school foodservice operators present vegetables in a way that is more appealing to students?
One of my favorite techniques to get students to try new vegetables is to pair it with something that they are used to eating. I think legumes are sometimes the hardest vegetable to get kids to eat. One way to get them to try a black bean is to pair them with foods that they are familiar with. Let's take turkey nachos for instance. Make them loaded turkey nachos with whole grain rich tortilla chips, taco seasoned turkey medallions and black beans, real cheese nacho sauce and salsa and they are likely to try the black beans. Or how about a turkey chili with a blend of black, kidney and pinto beans. These are kid-friendly foods and the dishes easily pair with turkey, which can make the veggies appealing to at least try.
What makes turkey such a versatile protein, and what are some ways schools can use different cuts of turkey to elevate vegetable-forward dishes?
Turkey is such a versatile protein because it has a mild poultry flavor that pairs so well with so many other flavors and pairs well with vegetable-forward dishes. Plus it comes in a variety of forms such as medallions, deli slices, roasts, shredded and steaks.
Here are some ideas:
Turkey medallion buffalo wrap with diced celery and chopped romaine
Sliced turkey in a grab-and-go chopped vegetable salad with iceberg lettuce, tomatoes, red onion, corn, cucumber and fresh green beans
Turkey steaks smothered with mashed potatoes
BBQ shredded turkey roast tacos with house-made coleslaw
Chopped turkey sausage and loaded veggie egg bake
What are some on-trend dishes can schools create with turkey and vegetables?
If you are like me and follow a number of school districts on social media, it is easy to see that there are many global flavors trending right now in child nutrition programs. Pairing turkey with vegetables is a perfect match for many of the multicultural flavor profiles. The top three trends that I am seeing right now are Latin American, Asian and Indian. Pairing turkey with onions and cilantro (which is considered a dark green vegetable in child nutrition programs), makes a perfect street taco filling. Asian bowls have been a huge hit with students. Topping rice with steamed broccoli, carrots and cabbage with teriyaki or orange turkey makes a perfect kid-friendly Asian dish. Indian cuisine is the newest trend that I am seeing. Turkey Tikka Masala made with a tomato puree, onions and seasoning are the perfect pairing for a healthy and delicious meal. When it comes to turkey and vegetables, the possibilities are endless.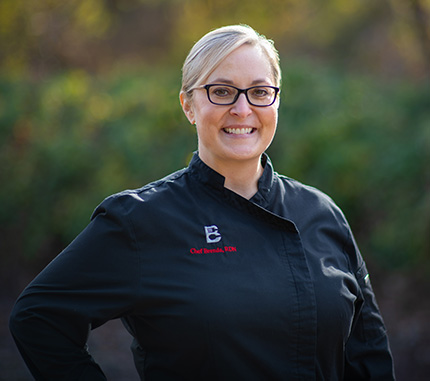 Brenda Thompson-Wattles is a chef and registered dietitian who has consulted for child nutrition programs since 2008. As an advocate for child nutrition professionals around the country, her mission is to empower them to embrace nutrition, influence greatness within each other and craft culinary cultures in their kitchens — ultimately inspiring children to make healthy choices. Thompson-Wattles first studied to become a registered dietitian at the University of Idaho. Later, she received her culinary degree at the Le Cordon Blue College of Culinary Arts in Austin, Texas. She has been a consultant recipe standardizer for the USDA, state agencies, manufacturers and non-profit agencies, and has published several child nutrition standardized cookbooks and resources.
She recently released her Level Up with Chef Brenda social media platform, which focuses on sharing standardized recipes and culinary tips. She is also the menu planner and recipe standardizer for West Ada School District in Meridian, Idaho.