Shareables: The Star of the Menu
September 2019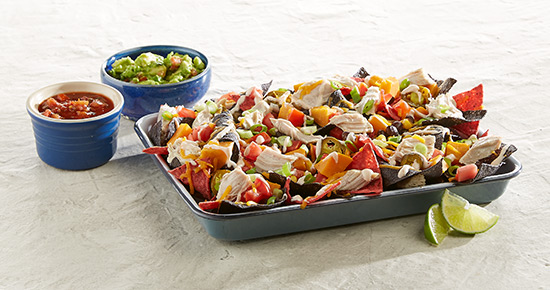 Dining is an inherently social experience, so it's no surprise that groups are ordering foods they can split with one another. More than 90% of operators have appetizers on their menus. Small plates encourage chefs to experiment with bold tastes and unique ingredients, and patrons get to sample a variety of dishes.
Over the years, operators have shifted away from the classics, including chicken fingers, garlic bread and potato skins, to meet evolving dining preferences. Patrons look for one-of-a-kind first courses—and international fusions provide just the innovation. South American and Latin American are among the top crowd-pleasers, along with Filipino and Hawaiian cuisines. In these Turkey Taco Tostones, the zest of Latin America comes together with fried plantain slices to make a dish great for groups to share.
Menus have long featured Mexican influences, and diner interest remains strong. More than 70% of consumers describe Mexican food as unique and exciting, making it a must-have on the left side of the menu. Nachos are a fan favorite, and they get a Southwestern makeover in these Loaded Turkey Nachos with Tajin Crema. Street foods from around the globe are in-demand appetizers too, with Caribbean and Latin American cuisines emerging as top inspiration. These Turkey Chorizo Street Tacos deliver the spice and culinary fanfare of the tropics.
Asian flavors are also making a splash, appearing in more than 30% of menus nationwide. From dumplings to spring rolls, these Eastern Hemisphere options make appetizers more diverse with unique formats and ingredients. CRAVE American Kitchen & Sushi Bar in the Midwest offers poke bowls; bamboo bite rolls; and veggies common in Asia, such as edamame. Consider these Banh Mi Turkey Wraps to infuse on-trend ethnic flavor into menus.
Middle Eastern cuisines are also increasingly widespread. Sassool, a Lebanese and Mediterranean-style fast-casual restaurant in North Carolina, serves jalapeño cilantro hummus and falafel appetizers. Moroccan and Algerian marinades, such as chermoula, allure diners by providing innovative touches to otherwise familiar hors d'oeuvres. Operators can bring the interesting tastes of the Levant for groups to sample with this Turkey Kofta.
A mix of old favorites and new creations lets everyone at the table find something they'll enjoy. Technomic reports that salads are still among the top appetizers. Offer this beloved Classic Caesar Salad to delight patrons who opt for the tried and true. To satisfy those who fancy something a little different, imaginative chefs are giving sliders new riffs. Many of them are swapping traditional beef patties for other proteins. These Three Philosophers Sliders provide a healthful take on the staple starter with turkey patties in three different flavor combinations.
There are plenty of ways for appetizers and shareables to shine, from Happy Hour specials to catering menus. The ever-growing demand for the first course signals to operators the importance of serving a variety of portions and flavors. Diners are constantly looking to satisfy cravings of all sizes, showing that perhaps the key to bigger checks is smaller bites.
Which kinds of shareables does your restaurant offer? We'd love to find out on Facebook or LinkedIn. For more recipe ideas, visit our Culinary Center.
SOURCES
Appetizer Menu Trends, Technomic, Q2 2019.
Ten of the Latest Appetizer Trends, US Foods, April 2019.
Ellis, Mandy. 5 Ways to Harness the Shareable Trend, FSR, September 2018.
Mexican Menu Trends, Technomic, Q2 2019.