Stir Up Your Soups
May 2022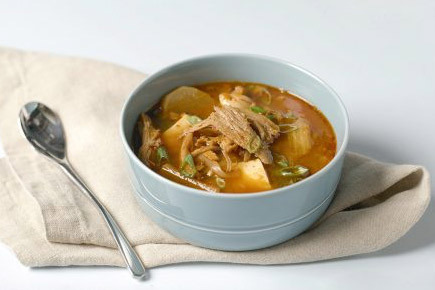 While many restaurants scaled back soup offerings during the COVID-19 pandemic, consumers filled the void by buying it at grocery stores, sourcing it from convenience stores, or making it at home. Today, more than a quarter of consumers strongly agree that they're ordering soup from restaurants more often than two years ago.
Consumers are expecting restaurants to serve unique, high-quality soups they aren't cooking up in their own kitchens. Now's the perfect time to take your soup menu up a notch. Explore the latest trends to find delightful new ways to stir up your soup offerings and keep diners coming back for more.
Go global for Gen Z: Younger consumers are seeking something different. Forty-three percent say they're interested in new or unique soups, and 32 percent would pay more for them. Additionally, 33 percent want to try more global-inspired soups. Maximize your menu by adding a soup that satisfies cravings for new, unique, and global flavors, such as our Korean Turkey Kimchi Soup. Featuring trending Korean flavors fused with the comfort of a classic ingredient—turkey—it's a delicious way to meet demand.
Take soup to new seasons: Soup is innately comforting, but it doesn't have to be reserved for cold-weather months. Younger consumers in particular are interested in trying chilled soups. Gazpacho and fruit-centric soups are nothing new, but they're excellent starters for new twists to add interest. Fresh summer herbs, citrus, and seafood make bright and seasonal complements to cold soup options.
Mind the menu: After you've crafted a patron-pleasing soup recipe, there's still work to be done. How you add your soup to the menu can have a big impact on sales and success. Consider including descriptions of your soups instead of simply listing their names, giving diners the option to bundle soups with entrees or allowing soups to be substituted as sides. Additionally, name brands can make a difference, as 29 percent of diners strongly agree they prefer well-known brand names on restaurants' soup menus. Play into the brand love by adding Butterball turkey to any soup offering.
Create emotional connections: There are lots of reasons why consumers choose to order soup, from value to nutritional benefits, but the No. 1 purchase driver is their mood. Whether diners need a little extra comfort on a rainy day or are feeling nostalgic, soup is a feel-good menu item they look to for a pick-me-up. Tap into these emotional needs by offering soup specials based on the weekly weather, or playing up the nostalgia in menu descriptions and messaging.
How do you plan to stir up your soup menu? Please share your thoughts on our Facebook or LinkedIn pages. Or visit our Resource Center for more tips and trends.
SOURCES
Technomic Soup and Salad Consumer Trend Report, 2022