Thanksgiving Turkey Tips For K-12 Operators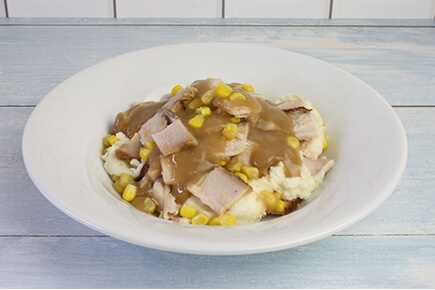 With Thanksgiving approaching, now is the perfect time to plan seasonal meals for your students. Here are some of our favorite recipes featuring sliced turkey for the most delicious of holidays.
Sliced Turkey with Roasted Cran-Sweet Potatoes: This delicious recipe is perfect for the fall season, with savory turkey expertly paired with roasted sweet potatoes, and sweet and sour cranberries.
Harvest Turkey Potato Bowl: Nothing works better with turkey than a deliciously savory gravy. With corn and the perfect mashed potato, students will crave this comforting meal.
Sheet Pan Turkey Cheese Sandwich with Gravy Dip: Turkey works just as great in a deliciously hearty sandwich with melty cheese and a savory gravy dipping sauce. This recipe is both incredibly comforting and great for the holiday season.
In addition to offering delicious meals surrounding the holiday, consider implementing a relevant activity to engage students. Have your foodservice team set up a dry erase board in the cafeteria and write down things that they are thankful for every day for a week. This is a great way for students to get to know them and inspire them to think about what they're thankful for. The following week, give students the opportunity to share what they're thankful for by providing notecards and a themed bulletin board for display.
For more insights, visit our page for K-12 Schools. You can also share your personal Thanksgiving stories on our Facebook or LinkedIn page, and visit our Resource Center or Recipe Page for even more holiday inspiration.