The Benefits of Open Communication
August 2020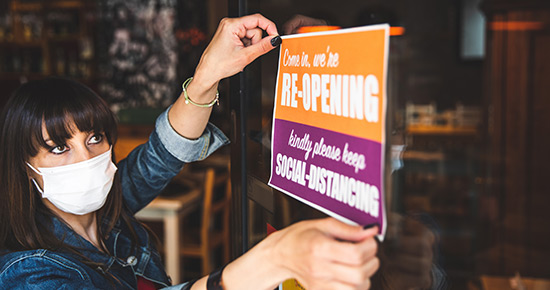 Frequent and open communication with diners is always a good idea, but it's especially important in times like these when everyone is looking for reassurance that dining out is safe. Updates may focus on small changes, like ordering procedures, or more significant matters, such as announcing that an employee tested positive for COVID. When Chick-fil-A and Starbucks needed to communicate this, they did so through public letters that detailed the actions that operators took to clean their respective locations and to support the staff members who fell ill. While you may be reluctant to share this kind of news, it demonstrates a commitment to maintaining customer trust. Patrons are more likely to return to a restaurant when they're provided with a robust account of what the operation is doing to prevent this from happening again.
When thinking about what to communicate, be proactive and thorough—from capacity limits, mask requirements and tamper-proof packaging, all the way down to your on-premise sanitizing methods; no detail is too small in a climate where uncertainty is widespread. Consider emails to loyalty members, social posts, and at a minimum, signage in your operation. Wingzone, a chain based in Atlanta, notified customers when delivery drivers began wearing masks and gloves, using sealed packaging and disinfecting carry-out bags. Mooyah Burgers, Fries and Shakes conducted a thorough cleaning and used the hashtag #RestaurantStrong to spread the word. No matter the platform, messaging needs to be clear and professional. For instance, on-premise signage that notes capacity limits or mask requirements shows more preparedness than hanging handwritten notes.
Sharing changes in operational matters extends to menu changes as well. Garbanzo Mediterranean Fresh, a fast-casual concept, is known for its use of fresh ingredients. However, they have had to pivot to frozen ingredients to preserve supply. They announced this switch via store signage rather than keeping it private. Letting customers know how the food they love may differ from before shows a respect for their patronage and attention to detail.
Diners want to be informed, and clear communication offers reassurance throughout their entire experience. Implementing safety measures is only a fraction of the work and notifying consumers of these actions closes the gap, bringing the peace of mind they seek.
How have you been communicating with your patrons during these challenging times? Let us know on Facebook or LinkedIn. Take a look at our Resource Center to see what else is happening in the industry.
SOURCES
Klein, Danny. Why Brand Identity Has Never Been More Important for Restaurants, QSR Magazine, June 2020.
Littman, Julie. Recipe for a successful restaurant reopening: transparent marketing, Restaurant Dive, June 2020.
Vasek, Jan. For Restaurants, Transparent and Consistent Communication is Key to Navigating COVID-19, FSR Magazine, April 2020.