The Best Sides for Better Burgers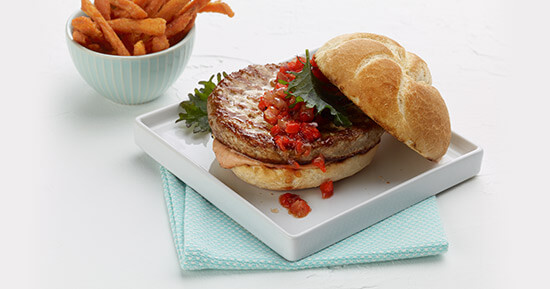 Better burger menus involve more than what's on the bun. Chefs are revamping their side dish offerings to attract adventuresome diners and to increase check averages.
Sides have a large role in the success of the menu items they're paired with. It's important to give diners the opportunity to select their sides from a list of appealing options. About 46% of consumers say they are less likely to order an entrée that comes with a side they don't like, and 36% say they often choose entrées based on their accompanying sides.
While French fries may seem like a no-brainer for the burger menu, more and more diners are looking for unique veggie side options. Sweet potato fries are becoming more popular—they've been featured as an LTO at both Wendy's and Burger King. They're also an excellent way to appeal to health-conscious diners while increasing check averages, as they're viewed as a more premium option. Try serving sweet potato fries with a White Turkey Burger and a side of Cranberry Chili Chutney dipping sauce for the perfect mixture of sweet and savory flavors.
Although entrées at higher-end establishments are being paired with trendy greens like Swiss chard, fennel and radicchio, many diners seem to be craving fried sides most of all. Rather than healthy options, they're searching for new, more interesting flavor.
Try these side ideas as a way to boost your burger menu:
Onion rings—They're the second most popular fried side item, after French fries.
Jalapeño poppers—Spicy flavors are trending in LSR and FSR segments.
Other popular fried vegetables include mushrooms, okra, green tomatoes, zucchini and pickles.
For more menu ideas, visit our Culinary Center. Be sure to check out our Facebook and Twitter pages for popular recipes and the latest trend information.
SOURCES
The Flavor Consumer Trend Report, Technomic, 2013
Technomic Reveals Growth Trends for Starters, Small Plates and Sides, 2013
Farewell French Fry, QSR Magazine, 2013