The Double Espresso…Personalized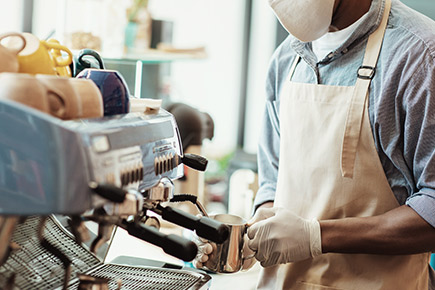 Coffee is important to any menu, offering customers a delicious start to the morning, or finish to the meal. So, how can operations get more serious about coffee, capitalizing on growing trends like personalized drinks?
Americans love their coffee. According to the NPD Group, last year, 44.5 billion servings of coffee were consumed, $2 billion was spent on coffee makers, and 6.3 billion visits were had to coffee shops at foodservice outlets. However, toward the end of May 2021, coffee sales declined 7%. Even with this, coffee is still the consumer drink of choice for Americans to power their mornings. There is no turning back. Personalized coffee is here to stay.
According to the Specialty Coffee Association, "specialty coffee is a coffee or coffee experience recognized for its distinctive attributes, and because of these attributes, has significant extra value in the marketplace." Specialty coffee beverages are all the rage, compared to traditionally brewed varieties. Customers like to personalize their coffee, crafting a cup most suited to their individual tastes. Younger generations are at the forefront of this revolution, taking pride in whichever coffee suits their cravings.
During the pandemic, many customers have missed grabbing a specialty coffee from their favorite establishment and agree that brewing coffee at home just isn't the same. Knowing this, it is most certain that as businesses return to normal and employees return to the office, there will be a high demand for coffee.
Therefore, it's imperative that your coffee program is the strongest it's ever been. Try looking into specialty beans for a unique solution to separate your operation from competitors. Roasted by craftsmen, their flavor is unmatched. Many of the tastes are not too different from a fine wine, with complex notes of fruits and spice. Best brewed fresh, the flavor is far less bitter, and the sugars are sweet and balanced. Knowing this, the quality of your coffee can reveal a lot about the quality of your restaurant, and a strategic coffee program can be incredibly profitable for an operation.
So, whether you're a coffee-centric café or a fine-dining establishment, coffee is both a great way to start the day and a delicious finish to an incredible meal. Talk with your DSR about options, and determine what will work best for your operation and drive new and repeat traffic.
What's in your cup? Share your thoughts on our Facebook or LinkedIn page. Or visit our Resource Center for more tips and trends.
Sources:
https://www.javapresse.com/blogs/buying-coffee/ultimate-guide-buying-specialty-coffee-beans
https://www.ncausa.org/specialty
https://www.npd.com/news/press-releases/2021/u-s-coffee-consumers-now-expect-an-elevated-coffee-experience-at-and-away-from-home/
https://www.fastcasual.com/articles/restaurants-coffee/
https://dailycoffeenews.com/2021/09/27/what-is-specialty-coffee-sca-offers-a-fresh-definition/