The Metaverse
April 2022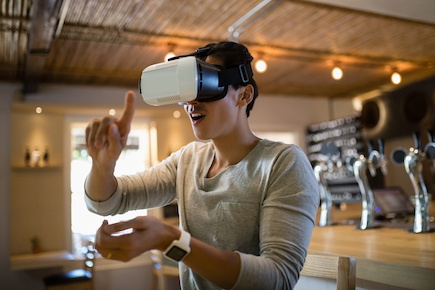 By now, you have probably heard of the metaverse, but do you really understand what it is? If not, don't worry; you're not alone. The idea of the metaverse has many still scratching their heads as they struggle to comprehend what it is and how to use it.
Conceptually, the metaverse offers us a way to integrate our physical lives with our virtual lives. More simply put, it allows users to interact with each other in the digital world, in real time. In the metaverse, there are opportunities to socialize and make new friends, attend concerts and museums, travel to new places, buy real and virtual products and even purchase real estate. But where does dining fit in?
We can't eat digitally - that will never change - but the metaverse offers a myriad of opportunities for restaurant brands to engage with consumers. For example, in October of 2021, Chipotle opened a virtual restaurant inside Roblox, an online gaming platform. The fast-casual chain gave away $1 million in burrito coupons as an extension of their annual Boorito Halloween promotion. Roblox enabled users to experience a prize-filled holiday-themed maze and dress their avatar in Chipotle-themed costumes, like Chip Bag Ghost, Burrito Mummy and Spicy Devil. CMO Chris Brandt revealed that Chipotle is "always experimenting on new platforms to meet our guest where they are." Roblox presented an opportunity to reach the 20-something crowd, which Brandt identified as the brand's ideal target because they "set what's cool in culture."
Another brand setting the stage for future metaverse activity is McDonald's. "The fast-food giant filed 10 trademark applications to the US Patent and Trademark Office (USPTO) on February 4, covering both McDonald's and McCafé for a virtual restaurant to deliver food in the metaverse and real life." The intent is to allow people hanging out in the metaverse to virtually enter a McDonald's, place an order, and through a third-party delivery service, have that order delivered directly to their real-world location. A true convergence of the virtual and physical worlds.
While online ordering is a main attraction for operators, integration into the metaverse will offer other opportunities as well. According to The Spoon, some of the special services users can look forward to are:
Informed reservations. Long gone are the days of having to call a restaurant to make a reservation. According to OpenTable, online bookings in June 2021 were 42% higher than they were in the same month in 2019, making online reservations the new norm. But move over Resy. In the metaverse, participating restaurants will be able to offer virtual tours of their establishment, followed by the ability to make a reservation for that perfect table with a view, all from the comfort of home.
Membership. Diners want experiences that are memorable and special. One way operators will lean into this is by leveraging premium NFTs (non-fungible tokens) to gain access to exclusive hospitality locations, events and perks in the metaverse.
Advertising. In the metaverse, brands will have the ability to run campaigns, form partnerships, and hold events for a fraction of the cost in the physical word. Additionally, they can be narrowly targeted, while at the same time have a global reach.
It's a new technology and there is still much to be learned about the metaverse, but evidence suggests that it is here to stay. Now is the time to start thinking about how you can operate in the virtual world while still offering real-world value.
What are your thoughts on the metaverse? Please share on our Facebook or LinkedIn page. Or visit our Resource Center for more tips and trends.
Sources:
https://brandingforum.org/featured/chipotle-take-their-marketing-into-the-metaverse/
https://www.businessinsider.com/mcdonalds-metaverse-virtual-online-restaurant-trademark-delivers-food-web3-nft-2022-2
https://www.euronews.com/next/2022/02/11/order-your-mcdonald-s-in-the-metaverse-the-company-applies-for-nft-and-virtual-trademarks
https://coinmarketcap.com/alexandria/article/what-is-the-metaverse-an-overview-and-a-deep-dive-of-the-top-metaverses
https://thespoon.tech/restaurants-welcome-to-the-metaverse/
https://brandingforum.org/featured/disney-reveals-metaverse-plans/