The Rise of Urban Farming
March 2022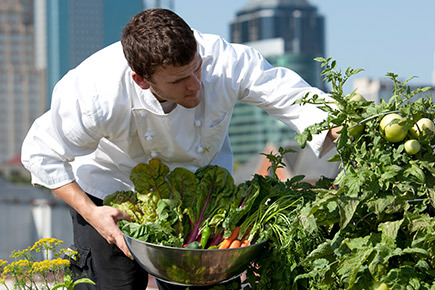 As an operator, sourcing quality, fresh produce has remained a growing trend in the United States food revolution. Customers now, more than ever, expect farm-fresh meals featuring the very best products. However, getting fresh produce to restaurants in major cities can be challenging, with travel time and storage being key issues. That's where urban farms come in.
Whole Foods identified ultra-urban farming as a top trend for 2022, as even more purveyors and operations seek food that is grown and produced local to their city, populated town, or municipality. The practice aims to increase access to locally grown food, reintroducing foodways that we may have forgotten as a culture. Innovations in indoor farming allow for maximum farming efficiency and new ways to grow crops at a local level, making it easier to source locally grown herbs and vegetables readily. Expect to see a continued rise in their popularity, with many operations adopting the model either in-house or receiving produce from urban farms.
For operators with access to urban farms, sourcing niche herbs and products that are best ultra-fresh is now a reality. In response to a growing number of indoor farms, restaurant-hospitality.com said, "Out of tiny shipping containers, on rooftops or in converted steel mills, these climate-controlled farms are producing everything from microgreens and leafy lettuces to mushrooms and tomatoes." This allows a wide variety of products to be taken in tiny batches on tasting menus or daily specials. "The product can be delivered to restaurants just hours after harvest and year-round. There are no variables for weather or global warming, no need for pesticides or herbicides. In fact, in some cases, there's no soil involved," notes restaurant-hospitality.com. This means that consistently delicious products are always in reach, offering far more flexibility in sourcing.
Let's look at a few examples of companies that have already started exploring urban farming. In 2013, Whole Foods opened a store in Brooklyn with a Gotham Greens greenhouse nestled on its rooftop, a great example of how salad greens and herbs can be grown sustainably using only sunlight and 100% renewable electricity. In addition, Fenway Farms is an initiative by the Boston Red Sox, where a 7,000 square foot farm yields a variety of crops for chefs to use in salads and fresh sides. Following along, the acclaimed NYC restaurant Bell Book & Candle grows 60% of their ingredients with energy-efficient aeroponic growing towers on their roof.
In addition to tastier dishes on menus, urban farming can positively impact the local economy, taking the form of new businesses and job opportunities for locals. In terms of the environment, if operated with a focus on sustainability, urban farming can transform underutilized areas into green space and reduce the agricultural energy footprint. People crave the ability to eat produce straight from the vine, so why not help create an edible landscape in vacant lots and rooftops across your city?
Suppose you're unaware of any existing urban farms in your area and have the means or the inclination to start one. With an urban farm, you can introduce conscious thinking into your operation while offering fresher produce to guests. However, regulation is something to consider, whether it's a large farming operation or a tiny one. There are safety and liability issues, as well as zoning limits. For information and resources about agricultural legal topics about urban farmers, visit https://urbanaglaw.org/. Before you get started, make sure that you are aware of all the essential rules.
What would you like to see from an urban farm? Please share your thoughts on our Facebook or LinkedIn page. Or visit our Resource Center for more tips and trends.
Sources:
https://www.wholefoodsmarket.com/trends/top-food-trends-2022
https://www.greensgrow.org/urban-farm/what-is-urban-farming/
https://www.linkedin.com/pulse/urban-farming-trend-report-madhukmitha-vasudevan
https://www.restaurant-hospitality.com/technology/restaurants-go-truly-local-rise-urban-farming