Trusting the Source: How K-12 Operators can Feel Great About Their Meat Supplier
July 2021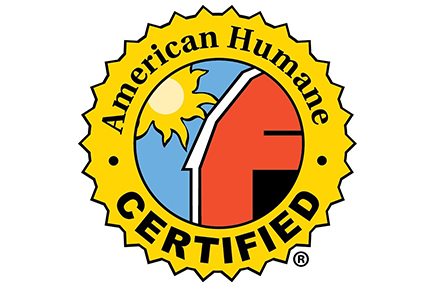 It's safe to say every school nutrition professional wants the same thing: to successfully provide nutritious, kid-favorite meals that empower students to learn and grow. This means that food safety is a top consideration, which is why there has been extra focus around the use of antibiotics in food animals. The concern is that this practice could result in antibiotic-resistant bacteria developing in the animals and transferring to humans. Understandably, this concern has led to demands of reduced antibiotic usage in food animals. But how will K-12 professionals really know their demands are being met? It's all about finding the right partner.
One way to pair up with a reputable and trustworthy food supplier is to look for the American Humane Certified™ seal on their products. Founded in 1877, American Humane created the first welfare certification program in the United States to help ensure the humane treatment of farm animals. The American Humane Certified™ program provides third-party, independent audits to help verify that certified producers' care of farm animals meets specific, science-based animal welfare standards.
Part of this verification process involves the use of antibiotics. To be certified, poultry must not be implanted or injected with any growth hormone/growth promoter, fed antibiotics (except ionophores) or fed beta-agonists for the purpose of boosting growth or feed efficiency. In-feed antibiotics or anti-parasitic agents cannot be used, except for therapeutic reasons as prescribed by an attending veterinarian.
Checking antibiotic use is one aspect of meeting more than 200 rigorous, science-based standards covering everything from adequate space to air and water quality, heating, lighting, shade and the animals' ability to engage in natural behaviors. Audits are conducted annually, with all qualifying products receiving the American Humane Certified™ seal.
When considering various food suppliers and aiming to find one that is dedicated to responsible antibiotic use, operators can make the search easier by starting with products that are American Humane Certified™.
At Butterball, we're proud to say all of our products carry the American Humane Certified™ seal. We also supplement the American Humane Certified™ process with guidelines set by our own Animal Care and Well-Being Advisory Council. This independent council is comprised of leading specialists in animal husbandry and care, including Dr. Temple Grandin. We partner with dedicated, local  farmers to make sure our turkeys receive proper air quality, lighting and space, in addition to managing a zero-tolerance policy against any form of animal mistreatment. Even with the best possible care, turkeys can still become sick and require treatment with an antibiotic. We will never withhold medical treatment from a sick animal. Our licensed veterinarians monitor closely any medications our turkeys receive to meet and exceed all federal regulations set forth by the FDA and the guidelines of the American Veterinary Medical Association (AVMA). And if antibiotics are used, government regulations require a waiting period to ensure the turkey you eat is free from antibiotic residue.
Everything we do supports our mission of providing quality products in a responsible way. We're proud to meet the demand for delicious, American-raised turkey products while also acting sustainably for our animals and our planet. It's all so you can feel great about the food you're serving to your students.
Visit our K-12 page to learn more about our products, see recipes and more.
If you have any questions about our Animal Care and Well-Being policies, we're happy to chat. Please reach out to Frank Samuelson at fsamuelson@butterball.com.
SOURCE:
Science-Based Standards, American Humane CertifiedTM, 2020.