Undressing the Possibilities of Pasta Salad
January 2020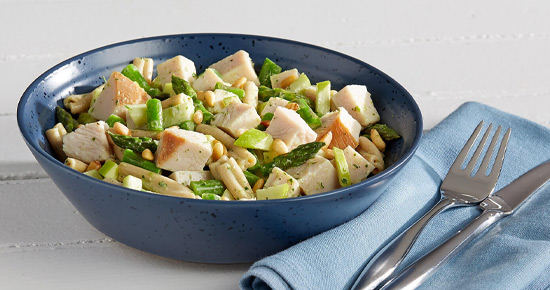 A successful menu is often full of dishes that are ripe for reinvention, and pasta salad is a perfect example of a food that can be customized in many ways. It's an ideal canvas that lets all kinds of ingredients shine, from dressings to proteins. While people debate whether it's a pasta or a salad, this dish brings versatility to the menu as an entrée, side, snack or convenient grab 'n go option.
This classic medley doesn't require extensive preparation. More than half of operators already serve pasta, and adding just a few on-trend ingredients can turn it into a crowd-pleasing dish. For example, adding a flavorful dressing can take any pasta salad to the next level. Technomic predicts that by 2021, Green Goddess dressing will increase 70%. To take advantage of this popularity, consider serving this Green Goddess Pasta Salad. It features diced roast turkey, asparagus, green apple and haricot verts tossed with pine nuts and creamy Green Goddess dressing.
While pasta salad has a simple execution, it still lends itself to upscale applications. The New York-based fast-food restaurant Superiority Burger features rotating pasta salads with a sophisticated edge. The owner/chef creates a balance between tastes and textures by carefully mixing raw and heavily cooked veggies to offer a contrast in flavor. One version includes tahini dressing, lightly pickled rhubarb, celery, shiso and peanuts. Instead of relying on the typical olive oils and salad dressings, these chefs get creative with chickpea-mayo hot sauce and sweet-sour, red-wine vinegar dressing. Some other variations include fried breadcrumbs, eggplant, garlic and peppers, fresh tomatoes and herbs.
Adding herbs, vegetables and unique sauces elevates pasta salad, but the noodles are still the recipe's cornerstone. The optimal salad starts with noodles cooked right before al dente. It's important to make sure the pasta type is compatible with the garnishes. For example, shapes that are thick and sturdy can better withstand creamy dressings. Operators should also consider how easily the noodles can be eaten with a plastic fork for customers who are dining on the go.
Having a recipe with endless potential for change keeps patrons from getting flavor fatigue. It also gives a chance to showcase a restaurant's standout offerings, such as signature dressings or sauces. There's no limit to the vegetables and proteins thrown into the mix, like turkey. This lean, better-for-you choice is similar to pasta salad in its versatility and its ability to accentuate all kinds of flavors. Including these adaptable foods makes it easier to incorporate the latest trends, thus helping restaurants to stay relevant and attract more customers.
What's the most interesting way you've menued pasta salad? Tell us about it on Facebook or LinkedIn. For more kitchen inspiration, explore the recipes in our Culinary Center.
SOURCES
Ignite Menu Data
2021 Predictions, Technomic, Q3 2019.
Clark, Melissa. Pasta Salads to Swoon Over (No, Really), The New York Times, June 2019.
Krishna, Priya. Why Pasta Salad is Your Best Bet This Summer, The Wall Street Journal, July 2019.
Wida, Erica Chayes. 10 Easy Pasta Salads for a Perfect Summer Meal, Today, June 2019.