Virtual Brands: Delivery of the Future
August 2021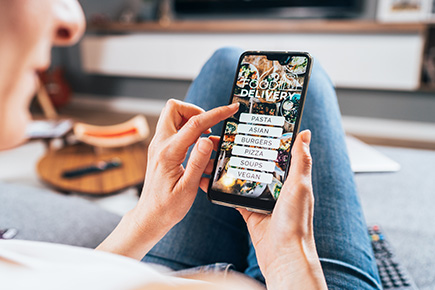 Before diving into the foodservice industry's fascinating trend of virtual brands, a quick definition: a virtual brand is a digital-first, delivery-only restaurant concept that leverages delivery platforms to reach hungry diners. Over the last few years, they've been popping up within existing brick-and-mortar establishments, adding flexibility and variety to how customers order food. And with delivery becoming more popular than ever, many virtual brands have risen to the top of the restaurant industry's largest growth opportunities.
With virtual brands, many businesses have chosen to do all associated delivery and takeout in their very own ghost kitchen. A ghost kitchen eliminates the dine-in component of a restaurant, providing singular focus and streamlined success for any delivery program.
While ghost kitchens are a popular home for virtual brands, some chefs present their virtual brand 100% online, but the kitchen co-exists within their brick-and-mortar establishment. Even though both of these concepts are on the rise due to COVID-19, they have been prevalent within the market since the beginning of online delivery in the early 2010s. According to Chowly CEO Sterling Douglass, there may be 100,000 virtual brands out there today already.
Platforms such as Grubhub, Uber Eats and DoorDash have been assisting operators with identifying opportunities popping up in their area, while also providing marketing tools to promote virtual restaurants within their digital applications.
An incredible success story of virtual dining is Mr. Beast Burger, a YouTuber who partnered with Virtual Dining Concepts to launch a burger joint in 30 markets simultaneously in December of 2020. His concept became incredibly popular and garnered quite a bit of buzz almost overnight, with over 300 locations since its initial launch.
Citizens-C3 is another leader in the virtual brand space, developing concepts operating out of ghost kitchens. Since entering the virtual brand space, C3 has partnered with Lunchbox to create an online ordering experience for brick-and-mortar concepts like Umami Burger and EllaMia, resulting in a virtual food hall that lets consumers choose from multiple concepts with ease.
There are potential pitfalls to virtual brands. Marketing can sometimes be a challenge when there is no physical location, and operators should be mindful of the added complexity to already taxed kitchens with these new delivery concepts.
Not being able to dine on premise doesn't appear to discourage consumers, as 63% say they are likely to order food from a restaurant available on a third-party platform without a physical location to visit. So, if you are looking for a low-risk way to experiment with innovative menu items, different cuisines or new markets, consider launching a virtual brand.
Have your own experience with virtual branding? Share your thoughts on our Facebook or LinkedIn page. Or visit our Resource Center for more inspiration as to how best prepare your business for the future.
SOURCES
America's 57 Most Exciting Virtual Brands, QSR, May 2021.
Lalley, Heather. Virtual Brands Emerge From the Shadows, Restaurant Business, September 2020.