What Customers Crave When Staying Home
May 2020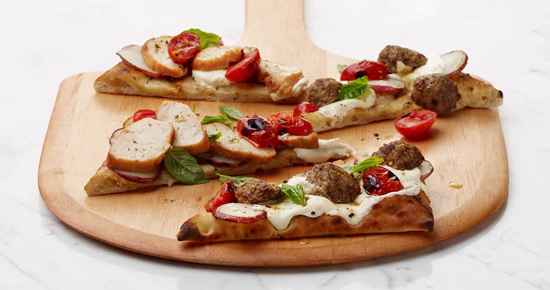 Now more than ever, patrons are looking for comfort. The onset of COVID-19 has caused numerous disruptions in their everyday lives, and many are counting on restaurants for a meal that's not only delicious but also fills an emotional need.
This daily uncertainty is affecting what patrons eat, but it isn't the same for everyone. One quarter of consumers are opting for better-for-you fare, while 33% are eating comfort foods with higher frequency. The top foods they're reaching for are pizza, burgers, sandwiches and meat entrées.
Turkey is a protein that can provide patrons with the best of both worlds—it's at the heart of many comforting dishes and it's a better-for-you option that gives rise to many possibilities. Consider these recipes, which are also well-suited for takeout and delivery menus, to give customers the feel-good food they crave:
Turkey Flatbread Pizetta: Who says pizza can't be healthy? Turkey medallions or meatballs and sliced potatoes top a flatbread brushed with olive oil and pesto. Sprinkle basil leaves, roasted tomatoes and shredded mozzarella to amplify this cheesy classic.
Turkey is a canvas for all kinds of flavors as well as a familiar food that offers reassurance in a time when it's needed. What's more, Butterball is a brand that diners know and love, and its recognizable name can help provide a sense of normalcy. As patrons and operators continue to adapt, they can count on a brand that's here to support them.
Which foods are your customers craving? Share them on Facebook or LinkedIn. Explore our Culinary Center for more recipe inspiration.
SOURCES
Coronavirus Report, Datassential, March 2020.