What makes a trend a trend?
September 2021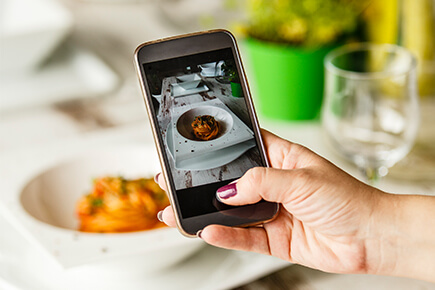 We often look to social media to see what's new and trending, but a lot of what you see on Facebook or Instagram is considered a fad, not a trend. What's the difference? The short answer is, fads come and go, whereas trends have a longer-lasting impact – but there's more to it.
There are people out there whose job it is to study trends in food. These experts have identified the typical life cycle of a food trend. First is the introduction phase when an item is often menued by a small percentage of independent and forward-thinking fine-dining chains. This is when talk of an exciting innovation usually begins to firm its grip on the restaurant industry. Next, it expands into higher-end casual-dining chains for what's called the growth phase. Here is when you might start to see spin-offs and purposeful evolution, making it easier to execute in higher-volume operations. Growth is followed by the mainstream phase, where typically we see fast casual and traditional casual dining operations take the reins. Finally the trend enters the mature phase, in which we often see quick service and midscale operations bring it to a much wider audience.
It's important to note that it doesn't always happen this way – it's not an exact science. But regardless of where a trend emerges, it's always a timely process. Trends differ from fads because they experience their growth over time and don't just quickly peak for 15 minutes. They also rely heavily on macro elements like consumer demand, supply, and current events, be it global news, technology, or cultural movements.
A great example of a current trend is the growing interest in lesser-known Asian cuisines as well as global sauces. In many Asian cuisines, sauces and fermented chili pastes play a predominant role in creating umami-forward dishes, either combined with sugar and vinegar for an incredible dipping sauce or bloomed in oil for a deeply savory base. From a macro perspective, population growth and economic development on the continent in the early 2000's as well as Asian emigration to the United States brought increased exposure to the cultures and cuisines of this part of the world. The result is that sauces like sambal, gochujang, and chermoula became huge trends on menus across the states.
Technomic has developed a predictive modeling technique for future trends, first identifying the trend's origin, then why it exists, how it's applied, and where it is going. Staying abreast of trends in their early phases and following their progression will help you determine when and even how you might apply it to your menu in the future. But remember, all good things come to an end. Just as important as determining when to tap into a trend is deciding when to move on.
Is there a trend that you are following that you think might be the next big thing? Share your thoughts on our Facebook or LinkedIn page, or visit our Resource Center or Recipe Page for more inspiration as to how best utilize trends for your business.
Resources