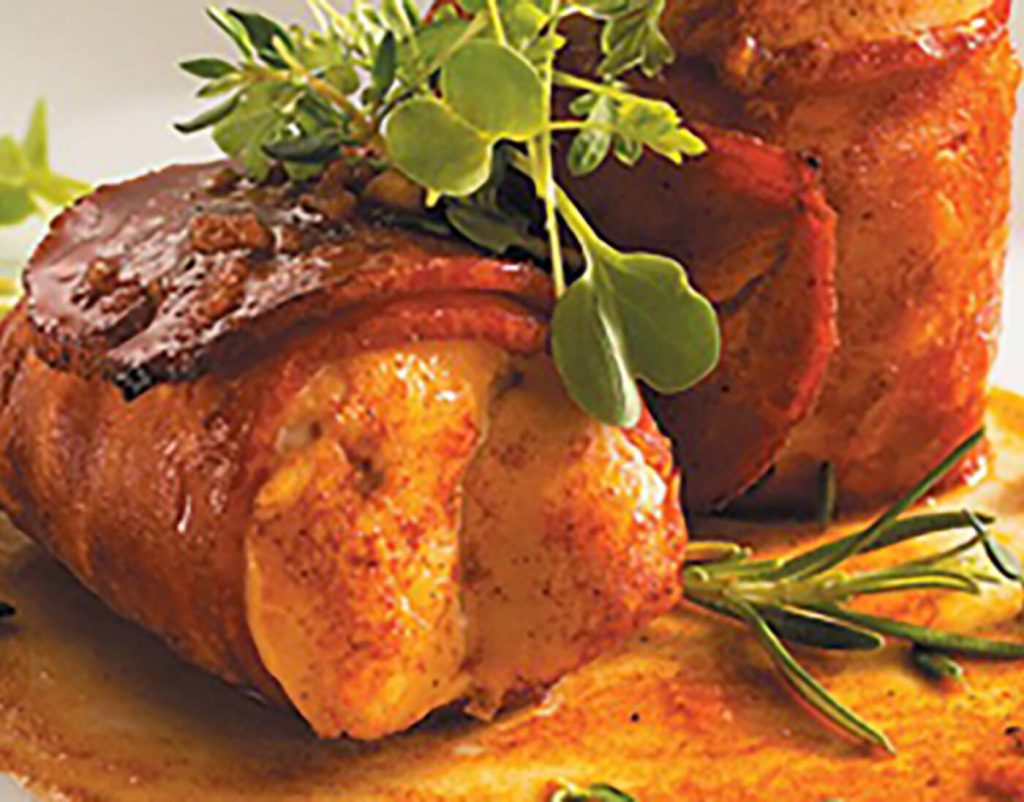 Bacon-Wrapped Turkey Medallions
Ingredients
Bacon-Wrapped Turkey Medallions
Yield: 12 medallions
Directions
1.

Wrap each slice of bacon around a turkey medallion and secure it with a wooden toothpick.

2.

Place the wrapped medallions in the Marinade, cover them and refrigerate them for 4 hours or overnight.

3.

Spray a grill rack with nonstick vegetable spray.

4.

Remove the turkey medallions from the Marinade, and set the Marinade to the side.

5.

Place the medallions on the grill rack, about 4 inches from the heat. Grill for about 4 to 5 minutes, brush with the reserved Marinade and turn once. Continue to grill for another 4 to 5 minutes or until the internal temperature reaches 170℉.

6.

Nap each warmed dinner plate with ⅓ cup of Bourbon Sauce. Portion 2 medallions on each dinner plate. Ladle additional Bourbon Sauce across the top of the medallions, as desired. Garnish with fresh herbs and serve.
Ingredients
Bourbon Sauce
Salt and pepper, as needed
Directions
1.

Blend all the marinade ingredients together in a shallow glass container. Reserve 2 cups of marinade to use in the Bourbon Sauce. Cover and refrigerate the remaining marinade.
Get All Things Butterball Delivered to Your Inbox
Find Your Broker