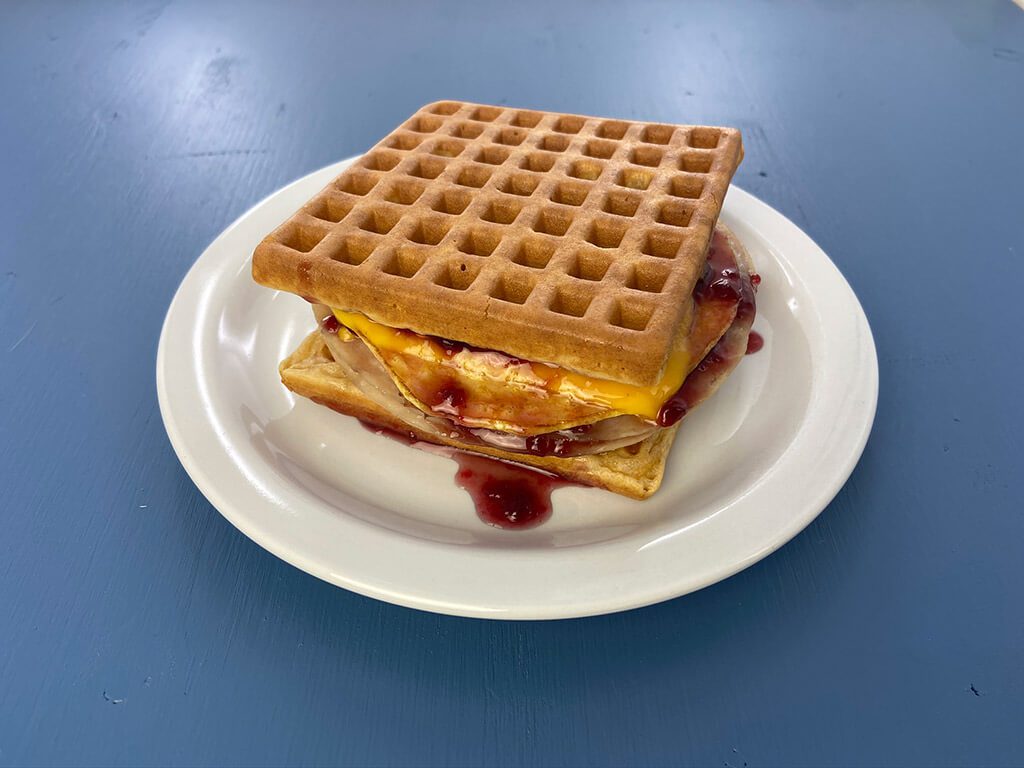 Maple Raspberry Turkey Waffle Breakfast Sandwich
Ingredient
50 Portions
100 Portions
Egg patty (USDA or Commercial)
50 Portions 50 ea.
100 Portions 100 ea.
American cheese, yellow, pasteurized, sliced (USDA or Commercial)
50 Portions 50 ea.
100 Portions 100 ea.
Waffles 4x4", whole grain rich
50 Portions 100 ea.
100 Portions 200 ea.
50 Portions 2 cups 2 tbsp.
100 Portions 1 qt. ¼ cup
50 Portions 1 cup 2 tbsp.
100 Portions 2 ¼ cups
Thaw turkey in refrigerator overnight two days before preparing sandwiches.
Once turkey is thawed, remove from packaging and place in 2" full perforated steam table pans lined with a 4" full regular steam table pan to catch the juices. Cover and allow to drain overnight in the refrigerator. Drain turkey well and discard juices.
Thaw egg patties in the refrigerator overnight.
In a large bowl, whisk together raspberry jam and maple syrup.
Preheat oven to 350° F. Stack 3.35 oz. (6 slices) sliced turkey, 1 egg patty and 1 cheese slice on a full sheet pan lined with parchment paper. Place stacks in the oven and bake for 10-15 minutes, until they reach 165° F for at least 15 seconds.
Arrange frozen waffles in a single layer on a sheet pan. Using low fan speed, bake uncovered in a 350° F oven for 4-6 minutes.
Place turkey, egg and cheese stacks between two waffles and top with 2/3 oz. (#70 scoop) maple-raspberry sauce. To serve sauce on the side, place sauce in a 1 oz. soufflé cup using a #70 scoop.
Serve immediately.
CCP: Hold thawed poultry, thawed egg patties, raspberry jam and maple syrup at 40° F degrees or lower. Hold cooked poultry at 140° F or higher.
Nutrients per Serving
Show More
Get All Things Butterball Delivered to Your Inbox
Find Your Broker