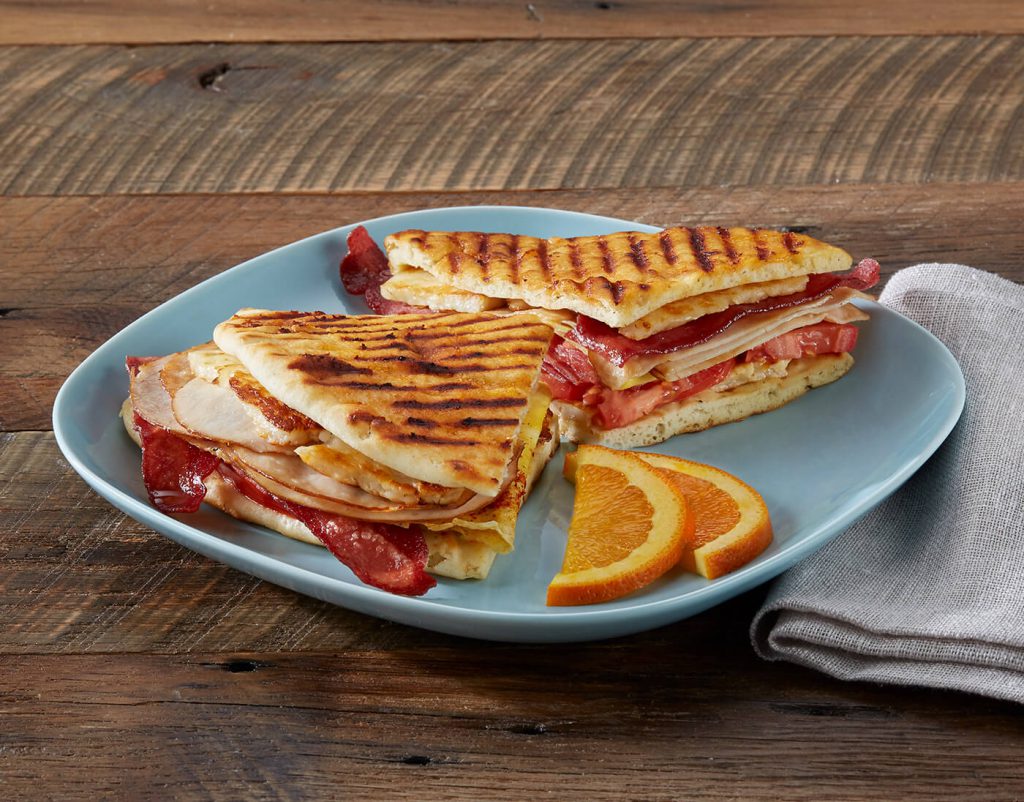 Taverna Breakfast Panini
With melted Halloumi, crisp turkey bacon and carefully browned turkey slices, this is one fresh-off-the-press bite guaranteed to hit the spot. This stack of morning favorites is great for dining in but can also be wrapped up and taken on the go. Serve with a side of fruit and consider substituting bagel slices in place of naan.
Ingredients
Seasoned Mayochup
Yield: 1 qt.
Directions
1.

Combine ingredients, stir and set aside.
Ingredients
Taverna Breakfast Panini
Seasoned Mayochup, plus more for serving
Thinly sliced Haloumi cheese
Directions
1.

Brush the outside of each piece of naan with seasoned Mayochup.

2.

In a small, non-stick skillet, heat 1 teaspoon olive oil over medium-high heat. Fry the Haloumi until browned well on both sides. Remove and set aside.

3.

Add turkey bacon to the pan and sauté until crisp. Remove and set aside.

4.

Add 1 teaspoon olive oil to the pan, shingle turkey slices over it and sauté until nicely browned on both sides and crisping on the edges. Remove and set aside.

5.

Add the last teaspoon of olive oil to the pan, pour in the egg and let it cook until set. Sprinkle with Aleppo pepper. Slide the omelet out of the pan and set aside.

6.

Lay one piece of naan on a hot panini press, Mayochup side down. Top the naan with half the Haloumi, then tomato slices, bacon, omelet, turkey and the remaining cheese. Top with second piece of naan, Mayochup side up.

7.

Press and cook until very brown and crisped on the outside.

8.

Serve immediately, with additional Mayochup for dipping or spreading.
Get All Things Butterball Delivered to Your Inbox
Find Your Broker