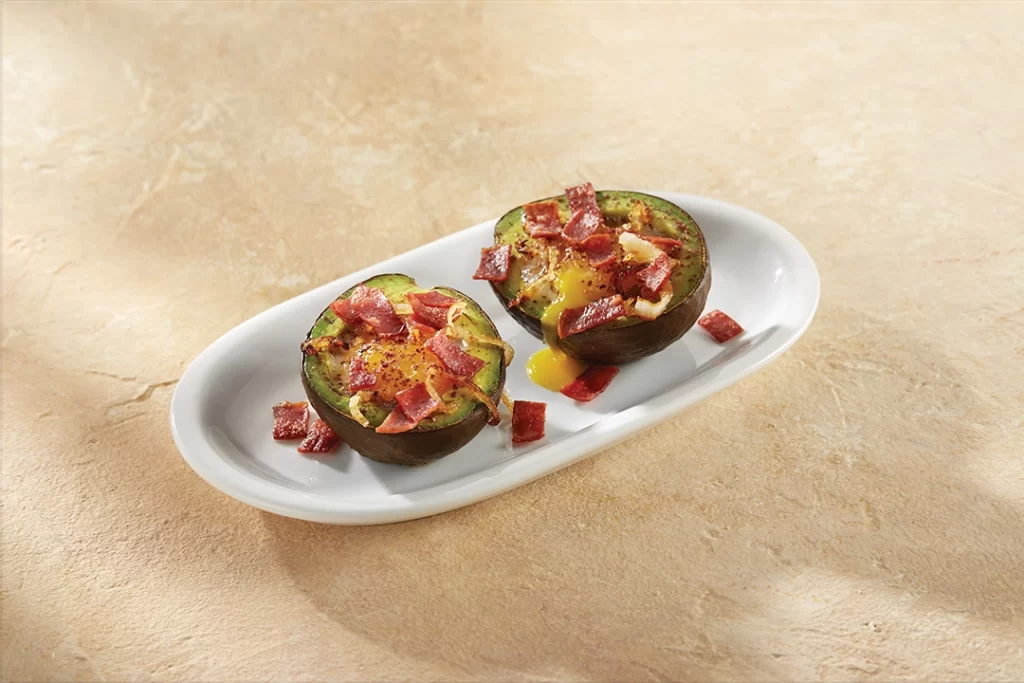 Turkey Bacon Avocado Egg Boats
Go ahead and rock the boat with this delicious and protein-rich breakfast offering. Halved avocados become vessels for turkey bacon topped with egg and a sprinkle of sumac, salt and pepper. After baking, the boats get another shower of onions, pepper and crispy bacon.
Ingredients
avocadoes, halved and pits removed
medium onion, very thinly sliced
small sweet peppers, trimmed, seeded and thinly sliced
Salt and freshly ground black pepper, to taste
Directions
1.

Preheat oven to 450 degrees F.

2.

Cut four slices of bacon in half. Set the avocado halves on a baking sheet. If they do not sit flat cut a thin slice off the body to steady them. Lay one half piece of bacon across each avocado cup. Crack an egg onto each piece of bacon, sprinkle with sumac, salt and pepper. Bake 12-15 minutes, until the eggs are cooked to desired doneness.

3.

Chop all the remaining bacon.

4.

While the eggs are baking cook the onion. Warm the olive oil in a large, non-stick skillet over medium-high heat. Add the onion and sauté until nicely browned. Remove with a slotted spoon and drain on paper towels. Add the chopped bacon to the pan and sauté until hot and crispy. Drain on paper towels.

5.

To serve, set two avocado halves on each of four plates. Sprinkle the tops with onions, peppers and bacon, letting some scatter onto the plates. Serve immediately.
Get All Things Butterball Delivered to Your Inbox
Find Your Broker