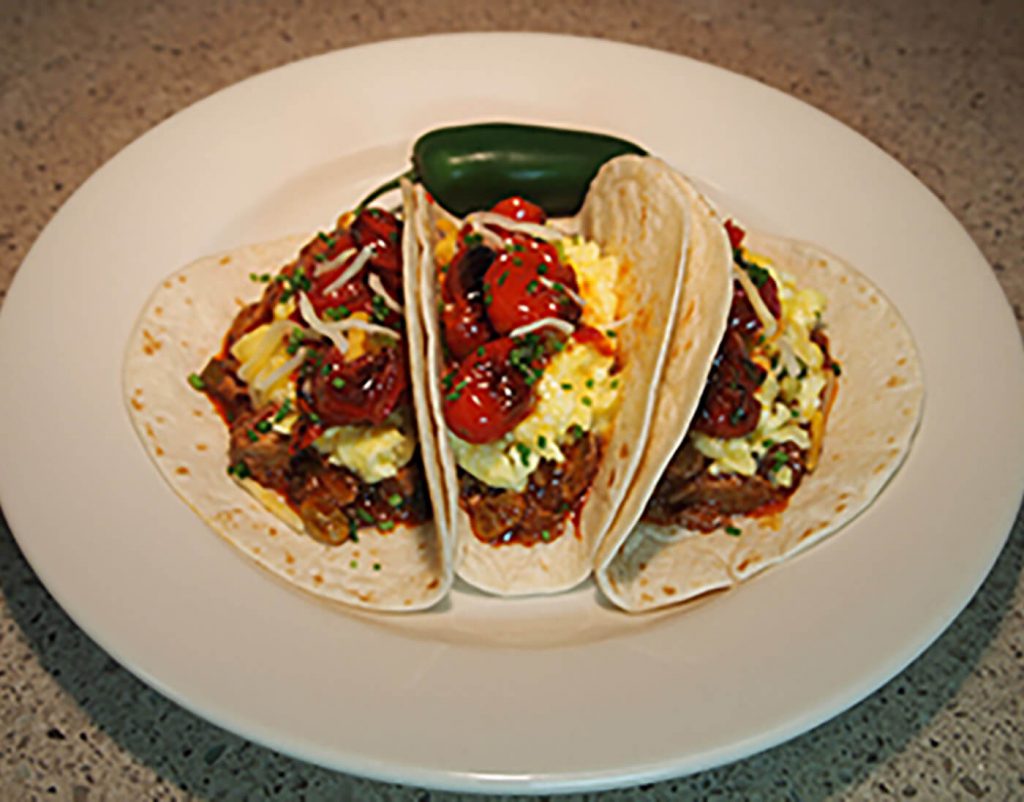 Ingredients
Turkey Breakfast Tacos
Directions
1.

On a griddle or a sauté pan over medium-high heat, heat the tortillas on both sides for 5–10 seconds per side.

2.

Place each warm tortilla on a plate and fill with 1 ½ ounces (2 tablespoons) of taco filling, 3 tablespoons of scrambled eggs, 1 tablespoon of roasted tomato salsa, 1 teaspoon of chopped green onions and 1 teaspoon of shredded jack cheese.

3.

Serve.
Ingredients
Turkey Taco Filling
Yield: Filling for 9 tacos
Green onion, diced ¼-inch thick
Onion, diced ¼-inch thick
Jalapeño, seeds and stems removed, diced
Cumin seed, toasted, ground
Directions
1.

In a heavy-duty sauté pan, heat the oil.

2.

Add the garlic and sauté for 30 seconds. Add the onions and sauté for 2 minutes.

3.

Add the jalapeño, pasilla chili powder, cumin, oregano, allspice, black pepper and salt. Stir and blend well.

4.

Add the enchilada sauce, ancho chili puree and turkey thigh roast. Simmer for 5–10 minutes (the filling must be moist but not saucy).

5.

Remove the pan from the heat and add the raisins and shredded cheese. Blend well.

6.

Serve.
Get All Things Butterball Delivered to Your Inbox
Find Your Broker