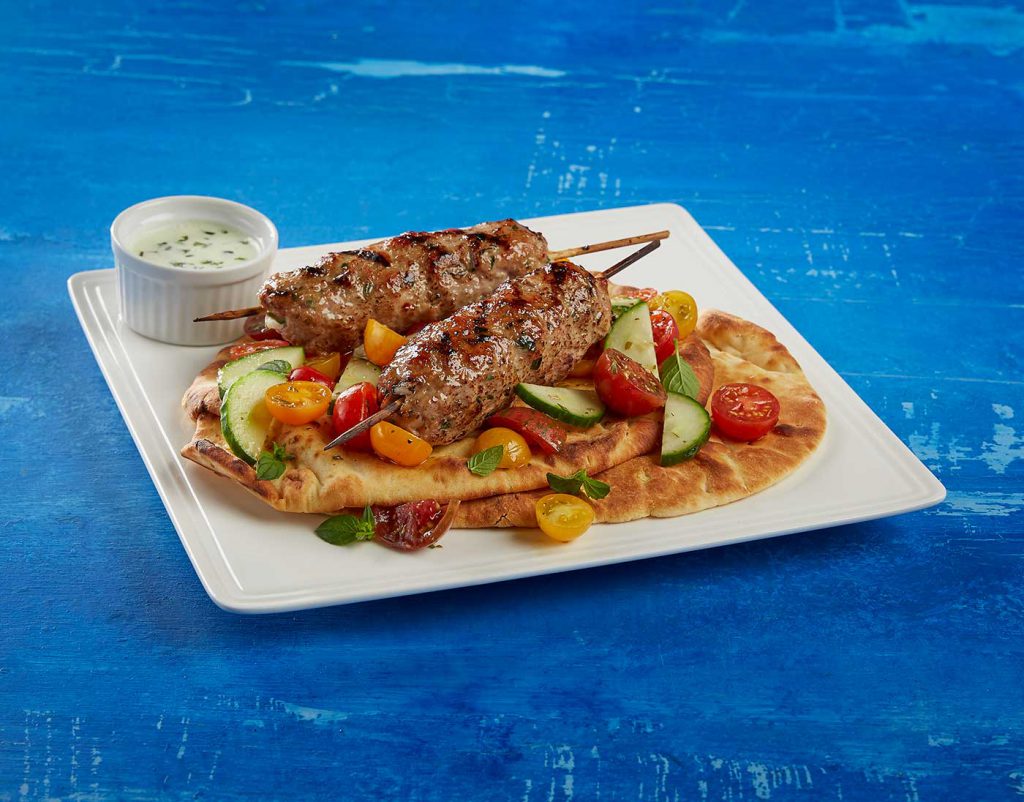 Turkey Kofta
In this Lebanese version of the kebab, Middle Eastern flavors come together in a tempting dish full of aromatic spices. Add a heavier sprinkle of red pepper flakes for extra heat. Alternatively, serve with hummus in place of the roasted garlic sauce.
Ingredients
Turkey Kofta
Yield: 20 oz.
Flat-leaf parsley, chopped
Pita or naan bread, 5 inches wide
Roasted Garlic Sauce, a drizzle
Directions
1.

Combine all ingredients except the pita, salad and sauce in a large bowl and mix gently.

2.

To make skewers, mold 5 ounces of turkey mixture around skewer sticks and grill until the turkey reaches 160°F.

3.

To make balls, mold the turkey mixture into 3-ounce balls and bake at 425°F, until the turkey reaches 160°F.

4.

Spread the Cucumber-Tomato Salad on a pita. Top with 2 kofta skewers or 2 kofta balls. Drizzle with Roasted Garlic Sauce.

5.

Serve.
Ingredients
Cucumber-tomato Salad
Yield: 2 cups
Directions
1.

In a small bowl, whisk together the lemon juice, oregano, tarragon and salt.

2.

Slowly whisk in the oil until combined.

3.

Stir in the cucumber and tomato until combined.

4.

Reserve the salad until ready for use.
Ingredients
Roasted Garlic Sauce
Yield: 1 cup
Black pepper, freshly ground, to taste
Directions
1.

Squeeze the garlic out of cloves, then place in a food processor and puree.

2.

Add the yogurt, lemon zest, mint and honey.

3.

Process until the mixture is smooth and combined.

4.

Season to taste with salt and pepper.

5.

Let the sauce stand for 10 minutes to allow the flavors to blend before serving.
Get All Things Butterball Delivered to Your Inbox
Find Your Broker