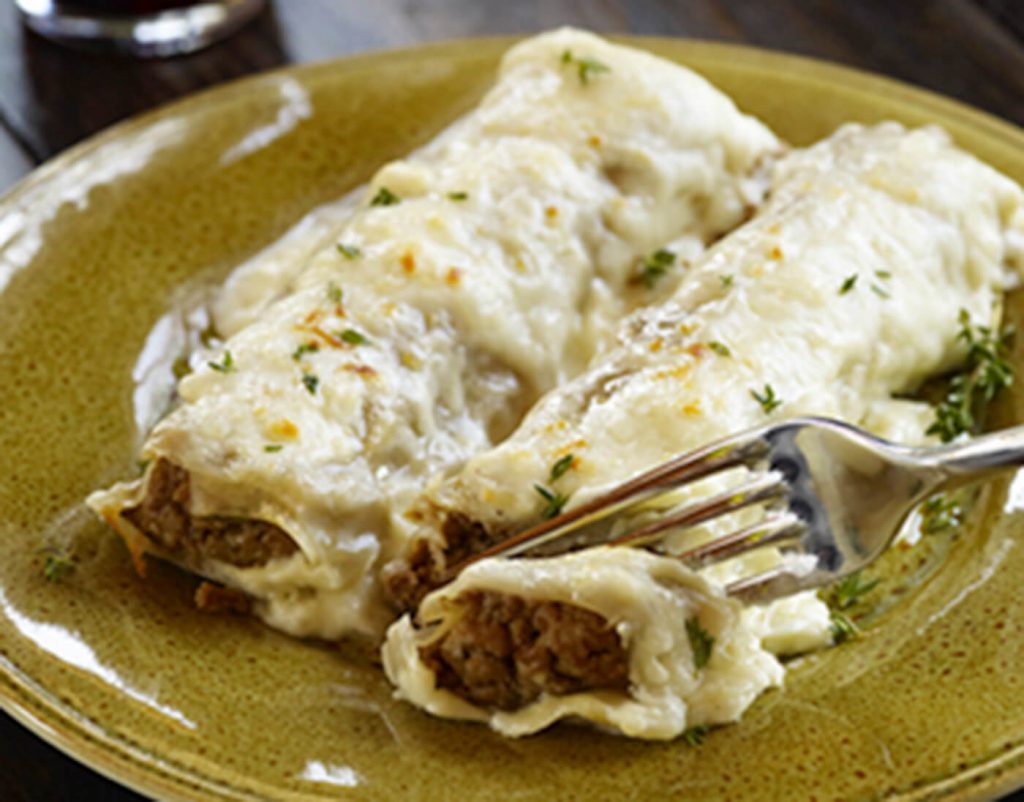 Ingredients
Valencia-Style Canelons
Chicken or rabbit livers, minced
Ibérico pork, finely ground
Smoked pimentón de la vera
Freshly ground black pepper
Canelon wrappers (see note)
Smoked Idiazábel cheese, grated
Directions
1.

Heat 4 tablespoons olive oil and Ibérico lard in a pan over medium heat and fry garlic. Remove from heat and reserve.

2.

Brown beef, turkey, chicken livers and pork over medium-high heat. Add shallot, tomato, thyme, basil, rosemary and oregano and cook until juices begin to dry.

3.

Pulse meat mixture and sherry vinegar in a food processor to a coarse paste. Add breadcrumbs, nutmeg, pimentón, salt and pepper and mix well.

4.

Cook a few canelon wrappers at a time in boiling, lightly salted water, for 8 to 10 minutes or until al dente. Remove with a slotted spoon and shock in a pot filled with cold water. Lift wrappers out with slotted spoon and arrange on a flat surface.

5.

Spoon a line of meat filling in each sheet and roll up to form a tube. Pour some béchamel into an oven-proof dish and lay tubes side by side. Cover tubes with more béchamel and spread cheese and small pieces of butter on top. Bake in preheated 400°F oven for 15 minutes or until heated through. Remove from oven, rest for 5 minutes and serve.
Ingredients
*Béchamel Sauce
Yield: 2 cups
Directions
1.

Heat olive oil in a heavy-bottomed saucepan and poach onion for 4 to 5 minutes with pinch of salt. Add butter, stir in flour and cook until golden color. Stir constantly until paste cooks and bubbles, without browning, about 2 minutes. Add hot milk, continuing to stir as sauce thickens and bring to a boil. Add 1 1/2 tablespoons salt, pepper and nutmeg, lower heat and cook for 2 more minutes. Remove from heat and reserve until ready to use.
Ingredients
Other Recipe Information
Directions
1.

May use 3 sheets of 12-inch x 16-inch fresh pasta cut into 18 rectangles, each 5-inch x 6-inch. Or may substitute wonton skins.

2.

Recipe and image furnished by Plate's Turkey Inspiration insert.
Get All Things Butterball Delivered to Your Inbox
Find Your Broker