4 Takeaways from SNA's Annual National Conference 2019
August 2019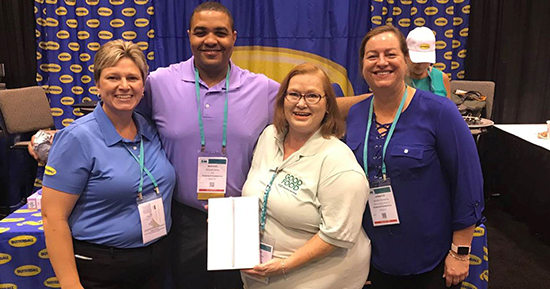 By Jennifer Armstrong, National Program Director for K-12 Schools
In July, I spent three days in St. Louis at the School Nutrition Association's 73rd Annual National Conference with thousands of other school nutrition advocates. It's a fantastic show, and everyone who works in K-12 foodservice should attend if given the chance. This conference boasts more than 100 education sessions on topics crucial to our industry as well as opportunities to network and taste new products.
Butterball was one of more than 350 exhibitors at the show. We offered samples of two K-12 products—Turkey Tenderloin Medallions and Turkey Thigh Roast—and even raffled off two iPads. It was energizing to interact with so many industry professionals and share insights with one another. For those who didn't attend, here are a few observations from the conference floor:
Operators embraced the Korean BBQ trend.
Millennial parents are exposing their kids to a variety of new foods, leading to a demand for bold flavors and ethnic dishes during lunch. Korean BBQ is a prominent example, and I was excited to see it being offered as an option for students. It's a dish that typically consists of beef marinated in a mixture of soy sauce, sugar, sesame oil, garlic and pepper, but operators can easily swap out beef with a protein lower in fat and sodium, such as turkey. To satisfy cravings for international flavors, consider these variety-adding Korean BBQ Turkey Wonton Tacos.
Healthy snacking got easier.
As an alternative to meals or as extra fuel for after-school activities, snacks are growing in this segment. I saw new ways to package fruits and vegetables for distribution to students. The individual packaging makes for easier transport—even smoothies are coming in easy-to-carry, preportioned bottles. Snacks with fruit credit, such as Apple Crisps from Tree Top, taste like chips but count as fruit because apples are the primary ingredient. With unique flavors, such as watermelon, mixed berry and strawberry, raisins from Sun-Maid are getting refreshed to increase their appeal to kids.
When dealing with snacks, just remember to keep in mind the Smart Snacks nutrition standards. These requirements apply to all foods and beverages sold to students outside of the school meal programs, such as vending machines, à la carte, school stores, snack carts and in-school fundraising. Operators should make sure to stay on top of these standards as they explore snacking options for their schools.
Yogurt transformed dishes.
Chefs are continuing to use yogurt in more creative culinary ways, from a replacement for mayonnaise or sour cream to a baking ingredient. At the show, I sampled yogurt-based dips, yogurt used in coleslaw, a yogurt-banana split and more. The versatility of yogurt, in addition to its health benefits, makes it a really valuable ingredient. The same can be said about turkey, a better-for-you substitute that can be used in a number of ways—just take a look at our recipes.
Sustainability took the spotlight.
K-12 foodservice directors have made strides in operating more sustainably over the last few years, but there's always room for improvement. This year, several sessions focused on composting and waste reduction. Some of the suggested actions to make schools more environmentally friendly were to increase recycling education and awareness of recycling bin locations, use smaller trays to regulate portions, provide share bins or share tables and switch to reusable utensils.
School nutrition is always evolving, and it's important to keep an eye on trends in this segment. Coming together to share new ideas and best practices will only help us continue the growth of our programs. There's a lot happening in school nutrition, and I look forward to discussing the latest trends with passionate operators at the 2020 show.
Visit Butterball's K-12 page to learn more about how we serve schools, or explore other foodservice topics with leading industry insights in the Resource Center.