A Thanksgiving Tradition You Can Count On
November 2019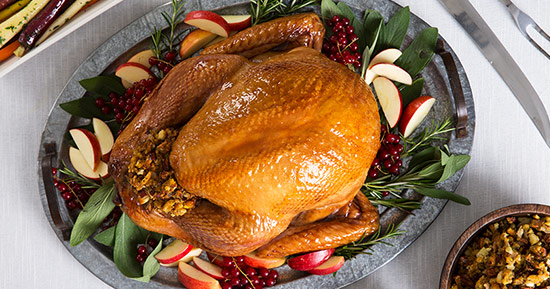 One of the highlights of the holidays is enjoying delicious feasts, and it's no surprise that here at Butterball, our favorite part is the turkey. We understand that it's not always easy for consumers to prepare these elaborate meals, which is why foodservice is the perfect solution for those who need a little extra help during this busy time of year. Many patrons depend on restaurants for what they eat on a day-to-day basis, so it makes sense to do so for occasions that require more time and planning than they can budget.
Foodservice can be very helpful during the holidays and plenty of other folks think so too. Dining out is a popular and convenient Turkey Day option, as 33 million people in the U.S. visit restaurants on Thanksgiving. They're often baby boomers whose kids live far away or "Friendsgiving" participants who aren't confident chefs.
Our ready-to-carve products make it a breeze to serve this Thanksgiving necessity. You can use them in your carving stations or in seasonal salads and sandwiches. While guests may expect the typical roast on Thanksgiving, chefs can impress them by menuing turkey in creative ways. These Thanksgiving Fiesta Tacos and White Turkey Burger with Cranberry Chili Chutney recipes mix all kinds of holiday favorites with the versatile, must-have meat.
Still, there are people who want to enjoy their meals at home but also cut down the amount of prep. Not everything on the table is made from scratch, nor does it have to be. Roughly 29% of Americans purchase side dishes and whole turkeys from restaurants and grocery stores. Millennials, in particular, are interested in catering options for turkey when the holiday season arrives. In fact, 45% of millennial turkey consumers say they would buy turkey from foodservice for their holiday meals. These hosts need a simple way to bring high-quality turkey into their homes, and operators can satisfy this need while still boosting sales.
Whether patrons are looking for take-away or dine-in solutions, Butterball is the brand diners want to see on menus. They want a name that's synonymous with turkey to make sure their holiday is a success. We can help you sell turkey meals and trimmings to meet all this demand. As Thanksgiving celebrants find what works for them and adopt it as a yearly tradition, you can partner with a trusted brand to inspire traffic that repeats too.
Learn more about away-from-home Thanksgiving diners with this infographic. For more operational tools and insights, be sure to explore our Resource Center.
SOURCES
Center of the Plate: Poultry Consumer Trend Report, Technomic, March 2019.
Kirouac, Matt. Home Away from Home: Create New Traditions for Holiday Diners, Food Fanatics Magazine.
The Importance of Turkey in Food Away from Home, Butterball, 2019.