The Most Important Meal of Today…and Tomorrow
February 2022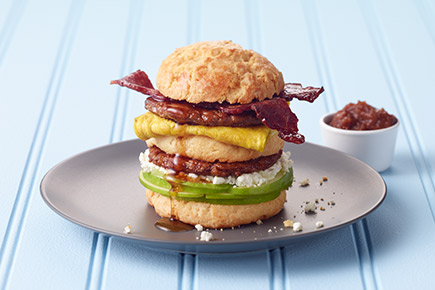 Breakfast has long been known as the most important meal of the day, offering eaters a great start to the morning. In the past few years, many have chosen to skip breakfast in favor of an early lunch, yielding less than favorable numbers of morning customers. But according to Technomic, "breakfast is poised for a big bounce back in 2022." Breakfast will rise once again, becoming a vital part of an American's routine. In this new year, chains will be curating subscription deals, multi-person bundles, product innovation and new marketing strategies to entice consumers. Virtual morning-only brands and later-day breakfast meals will also be in the fold, as well as a return to 24/7 breakfast options. With this, a bigger question presents itself. What will the customers of today expect for the breakfast of tomorrow?
According to a breakfast consumer trend report by Technomic in 2021, 34% of 18–35-year-olds said that they would love to see more turkey on restaurant menus, be it in the form of turkey sausage or bacon for more unique offerings. And with 2020 being an incredibly difficult year, comfort foods are on the rise. Getting creative with turkey offerings for breakfast can help your operation stand out, like with this delicious recipe for Country Fried Turkey Waffler. Loaded with fried turkey breast, crispy turkey bacon and Nashville hot honey, these waffles reinvent a breakfast classic.
In addition, many customers are looking for something delicious on the go. Take a look at this Triple Decker Towering Biscuit Sandwich for a dish that's both portable and indulgent.
Even with these cravings for comfort food, there is also an increasing demand for health-conscious foods. According to RestaurantDive.com, 47% of customers say that health is important when frequenting a restaurant for breakfast during weekdays. 31% are looking for high-protein foods that will give them energy until lunchtime, and luckily for them, turkey is a great option. Providing 50% of the daily value of protein, recipes like this Turkey Quinoa Breakfast Bowl are a great option for health-conscious diners. For a more global take on turkey, try these Venezuelan Breakfast Arepas on your menu. Made of ground maize, these savory treats are eaten in South America, prevalent in Colombian and Venezuelan cuisines, but are also eaten in Bolivia and other countries. For something different, try this recipe for Migas, a unique breakfast dish that is made by frying corn tortilla strips with eggs for a crispy texture.
In the midst of a breakfast renaissance, there's no better time to get creative with various dishes and toppings that can be both comforting and health-conscious. Turkey works as an incredibly versatile protein, highlighted in all the recipes above. So try something new for your operation, and get cooking!
What's your favorite turkey breakfast recipe? Share your thoughts on our Facebook or LinkedIn page. Or visit our Resource Center for more tips and trends.
Sources
https://www.restaurantdive.com/spons/in-for-a-treat-work-these-trends-into-your-2021-menus/595359/