5 Culinary Trends We're Excited to See in 2020
January 2020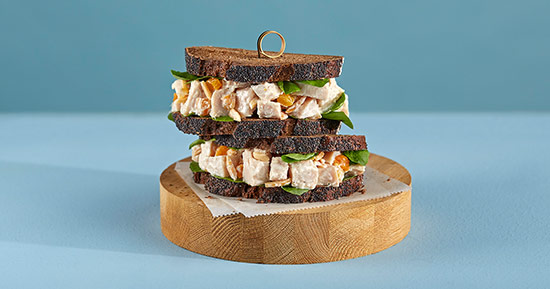 While 2019 may be behind us, foodservice will continue to experience all kinds of innovations this year. We here at Butterball are looking forward to these rising trends:
Global foods from less familiar places
Diners are ready to try less mainstream ethnic dishes—and so are we. Patrons are pretty accustomed to Chinese and Mexican foods and are now interested in Ethiopian, Moroccan, Turkish, Israeli, Korean, Indian, Malaysian, Indonesian and Vietnamese fare. To bring some of these influences to the menu, try our Moroccan-Spiced Turkey Salad Sandwich and Turkey Banh Mi recipes.
Chefs can get inspired by in-demand sauces from Middle Eastern, Mediterranean and Asian regions as well as various islands. These include doenjang, a Korean, fermented soybean paste, and the Hawaiian huli huli, a pineapple and teriyaki sauce. Adding just a splash of these on-trend garnishes, many of which pair well with turkey, is a simple way to create fusion options that diners won't forget.
Herbal flavors for health enthusiasts
We've seen that diners are paying more attention to wellness through growing demand for food with functional benefits. That's why herbs are so popular—they add both taste and healthfulness to meals. Turmeric and cumin, which are some of the fastest-rising herbs and spices, provide anti-inflammatory benefits among others. There are so many things you can do with these flavorful and functional ingredients, like making this Turkey Shawarma. It's a Middle Eastern pita wrap with turkey breast marinated in a blend of turmeric, cumin, cardamom and other spices.
Honey here, there and everywhere

More menus are featuring honey-infused sauces on proteins, vegetables and desserts. Whether chefs are glazing or roasting, this ingredient can add depth to recipes, especially when combined with other flavors. We love how sweet and savory mingle in this Honey Bourbon Peppered Candied Turkey Bacon served with house made Nashville Hot Honey Syrup.
Floral flavors in full bloom
Flowers can dress up a table, and they can do the same for food. Jasmine, hibiscus, lavender and elderflower are consistently growing on menus, year after year. Desserts and sweet beverages offer the most obvious opportunities for these flavors, while their savory applications are still being explored. Trends are pointing toward creative uses for lily flower, Osmanthus, dandelion root and daisy in cocktails, and it's possible that they'll make their way over to the protein department.
Cheesy to the max
Is there anything that cheese can't do? Nearly 65% of consumers say they crave foods with lots of cheese. Many LTOs feature ultra-cheesy riffs, and going in heavy with this ingredient can attract diners to unique and exclusive offerings. Plus, different types of cheeses mean you can concoct all kinds of LTOs. This Queso Mac & Cheese doesn't skimp on the cheese and is topped with flavorful turkey chorizo.
As 2020 takes off, we're feeling so ready to embrace these trends. We've got our thinking caps on too. From culinary insights to operational tips, Butterball is here to provide you with what you need to know.
Let Butterball help you take your operation to new heights this year. Stay up to date with industry trends and strategies by visiting our Resource Center. For innovative menu ideas, get inspired with our Culinary Center.
SOURCES
Cobe, Patricia. What's hot on menus for 2020, Foodservice Director, October 2019.
Technomic Flavor Consumer Trend Report, 2019.