A Fresh Take on Salads
April 2022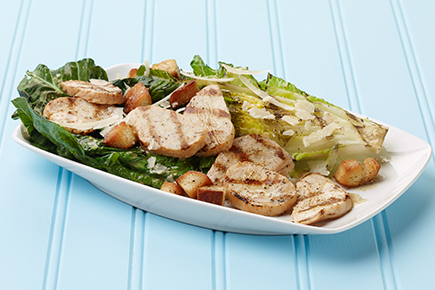 When it comes to getting your greens in, there's no better way to do it than with a nice, fresh salad. Salads are a great way to showcase fresh produce and lean proteins that stimulate consumer tastebuds and provide essential nutrients to patrons of all diets. Versatility plays a significant role in creating this popular menu item, for the unique combinations of flavors and ingredients are endless.
Thirty-nine percent of diners say that when they order food from an operation, a salad is almost always included in their meal. Several essential factors drive the purchase of salads among consumers, including…
74% - it's fresh
73% - it tastes good
51% - ingredients can be customized when ordering
51% - it provides the nutrients I'm looking for
According to Technomic's most recent US Soup and Salad study, the most popular version of this dish is a classic Caesar salad. Originating in Mexico and crafted by Italian immigrant Caesar Cardini, the Caesar salad is characterized by crisp romaine lettuce, croutons, and a dressing of olive oil, egg, Worcestershire sauce, anchovies, garlic, Dijon mustard, parmesan cheese and black pepper. Traditionally prepared and served tableside, the salad is an excellent mix of acidity and fat, with plenty of umami from the anchovies and parmesan cheese. Fifty-five percent of consumers said that this salad is preferred over other dressed, crunchy greens.
For a delicious version featuring grilled, smoky lettuce and tender turkey, try out our iteration of the classic Caesar.
Guests also love twists on old standards, as one in four love salads featuring Southwest ingredients. For example, check out this recipe for a fantastic Turkey Burger Fajita Salad.
Demand among diners has seen a rapid increase in the past four years, and it's not only about health. There has been a 47% decline in guests ordering salads based on health benefits since 2017. Inversely, the desire to try new salads based on menu innovation has increased by 19%. Try this Mediterranean Power Salad, featuring crispy beans, almonds, Butterball® Sliced Turkey Medallions, and a blood orange vinaigrette for an exciting recipe. Asian varieties are also enticing, with 31% of consumers preferring exotic flavors.
For something with a kick, try our Kung Pao Turkey Salad.
By creating more innovative dishes, 24% of guests who never order salads from restaurants may be more inclined to do so. Offering something they can't make at home will separate your operation from the competition.
Customization is another important factor. Allowing guests to pick and choose toppings offers an increased variety among consumers and the ability to cross-utilize more items throughout your entire operation. Forty-six percent say they prefer to build their salads according to their favorite ingredients and tastes versus ordering a menued salad.
Overall, salads are a great way to add variety and offer better-for-you options to guests. Turkey is the perfect protein for leafy greens, for it has less fat and sodium than beef or chicken. What's your favorite salad recipe featuring Butterball turkey? Please share your thoughts on our Facebook or LinkedIn page. Or visit our Resource Center for more tips and trends.
Sources:
Technomic Soup and Salad Consumer Trend Report, 2022