Breakfast Trends to Wake Up Your Menu
April 2023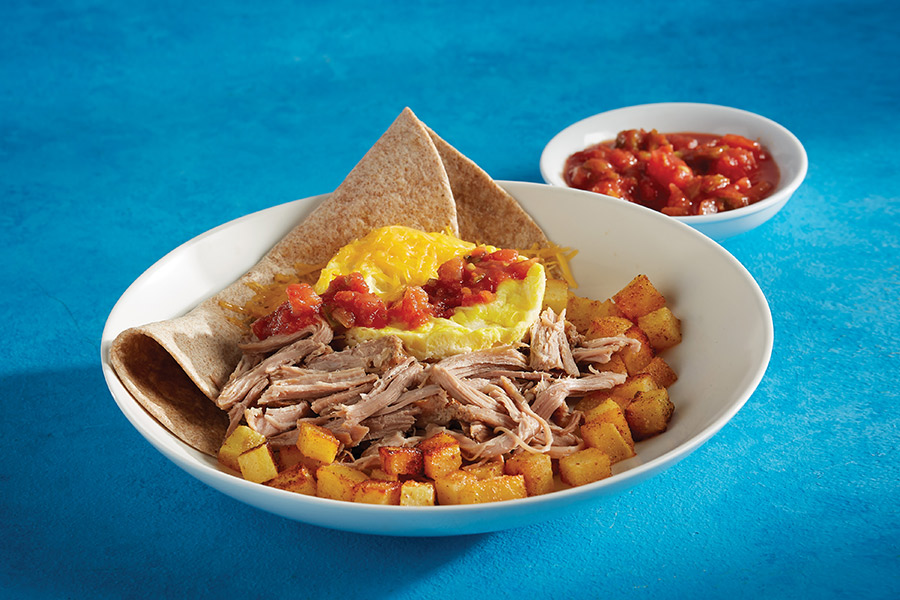 More than ever, consumers are ordering breakfast from their favorite restaurants. With this uptick in breakfast traffic across the industry, now is the perfect time to look at how and when you're serving the most important meal of the day.
The Endless Breakfast 
Not surprisingly, younger diners are ordering breakfast items well past traditional hours. According to Technomic, 62% of Gen Z like eating it at non-traditional times, including late-night. In response, more restaurants are extending the daypart or offering breakfast items all day. Some menu developers are even blending dayparts and serving items like breakfast pizzas. Others are adding traditional lunch and dinner proteins like grilled chicken to breakfast sandwiches.
A World of Flavor
Operators are also seeing demand for more globally inspired flavors in breakfast foods. The success of Mexican cuisine-influenced items opened the door to this trend with dishes like breakfast burritos and chilaquiles. Now, restaurants are offering breakfast dishes with traditional flavors and ingredients from countries like Vietnam, The Philippines, South Korea, China and Japan. The New Orleans restaurant Palm & Pine offers a Vietnamese Coffee Cinnamon Roll, marrying Asian cuisine with a mainstay breakfast favorite. Michelin-starred Kasama in Chicago draws on Filipino influences by adding sweet longanisa sausage to its breakfast sandwich.
The Power (and Profits) of Protein Add-Ons
Technomic reports that protein add-ons are increasingly popular on breakfast menus, a trend we've also seen across brunch menus. Offering a lean protein option like turkey will maximize the appeal of an item and might make health-conscious diners more likely to order a breakfast item. Delicious recipes like this Shredded Turkey Breakfast Burrito Bowl play into the global flavor trend, and these Turkey Bacon Avocado Egg Boats satisfy the urge for salty-savory bacon with more nutritious turkey. Offer the health-conscious diner a power breakfast and lean into the food bowl trend with this Turkey Quinoa Breakfast Bowl, or menu this sweet-and-savory take on a Dutch Baby, featuring turkey sausage, turkey bacon and caramelized maple apples. Combining traditional breakfast dishes with add-ons can maximize menu appeal and boost sales potential per item.
How will you evolve your breakfast menu to keep up with demand? Share your thoughts on our Facebook or LinkedIn pages. Or visit our Resource Center for more tips and trends.
Sources:
https://www.nationalrestaurantshow.com/nrs/4-major-foodservice-trends-you-need-know-about-now
https://www.smuckerawayfromhome.com/resources/trends/Generation-Z-Breakfast-Brief
https://www.getflavor.com/asian-breakfast-wakes-up/
Technomic State of the Menu 2023
https://www.food-management.com/food-beverage/wake-and-slay-serve-success-breakfast
https://foodinstitute.com/focus/breakfast-brunch-making-big-comebacks/