Comfort Food for Winter Months
November 2021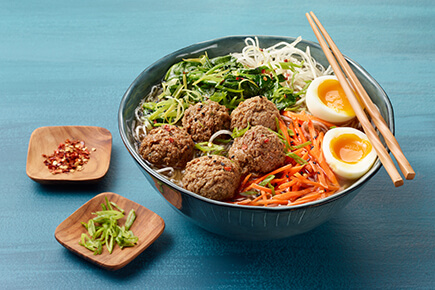 The National Restaurant Association found that weather is one of the biggest factors contributing to variance in restaurant sales. This means that whether it's snow on the ground or cold temperatures keeping diners snuggled up at home, winter months can be a struggle for operators.
In an effort to combat the winter doldrums, operators can start by addressing two key areas.
First, consider promos. In colder months, restaurants can be especially slow during the usual lunch rush. It could be advantageous to offer lunch specials to attract customers away from competitors who sit at a more premium menu price point.
Second, be sure your staff is exceeding customer service expectations. Making guests who brave the elements feel warm and welcomed is crucial. According to research by American Express, seven out of 10 U.S. consumers say they've spent more money to do business with a company that delivers great service. An excellent customer experience is the foundation of any successful restaurant, no matter the time of year.
But the best thing to do to encourage continued traffic across the seasons is make sure your menu reflects consumer demand. According to Technomic's 2021 Center of the Plate: Poultry Consumer Trend Report, adding turkey to your menu would appeal to the 32% who say they'd order turkey more often if it were available; that goes up to 48% for those aged 35-44. In addition, 56% would be likely to order turkey in place of chicken, beef or pork in their entrée, while 33% want restaurants to offer turkey as a protein choice in a wider variety of entrees; it tops out at 46% for those 35-54. It's also important to note that older millennials in particular are interested in trying turkey dishes with a global twist (41%).
In keeping with more global options, turkey is a versatile protein suited to many different cuisines and styles. Especially during the winter months, Turkey Ramen is one of our favorites, utilizing leftover turkey bones for broth, pairing with delicious, sliced breast meat and fresh egg noodles. Ground turkey also makes a delightful curry for guests craving a new take on this ethnic-inspired flavor. Finally, take your guests to the Middle East with Turkey Kofta or Shawarma. These dishes feature marinated turkey breast stuffed between two fluffy pieces of pita bread, topped with yogurt sauce and a spicy sambal.
Winter can be tough, but taking proactive steps could help stem declines. By getting creative with your menu and offering delicious meals at a special price point, you can help your operation stand out from the crowd and keep guests coming back time and time again.
What are your favorite winter menu items? Share your thoughts on our Facebook or LinkedIn page. Or visit our Resource Center for inspiration on how to best prepare your business for the future.
Sources:
Technomic 2021 Center of the Plate: Poultry Consumer Trend Report)