Say Goodbye to Boring Salads: 3 Fresh Menu Ideas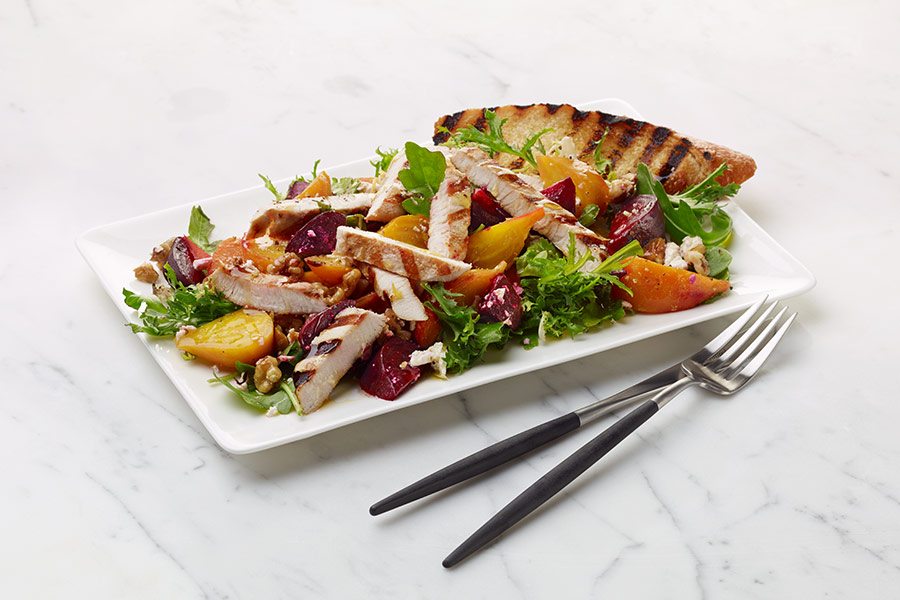 Consumers are more health-conscious than ever, so now is the ideal time to make sure your menu is full of exciting, healthy options. Getting creative with your salads––or allowing your diners to build their own––is the perfect opportunity to meet the demand while playing into other consumer trends. Besides offering the traditional garden, house, Caesar or Greek salads, experiment with trending, health-forward options with these tips:
1. Start Pickling
Standard salad veggies like carrots and cucumbers can start to feel stale. So, grab the vinegar and try pickled vegetables, which are trending for their appealing tang as well as their digestive benefits. Offering pickled veggies is a great way to offer exciting new flavor add-ins to salads using ingredients you already have. Diners will love the vibrant red and yellow beets––especially if they're pickled––in this Grilled Turkey & Marinated Beet Salad with aromatic basil, crunchy walnuts and sprinkled with feta. Or offer your guests a healthier version of the burger with this Turkey Burger Fajita Salad with a Mexican twist. Bursting with flavor, it combines peppers perfect for pickling, avocado, habanero sauce and a zesty salsa dressing for a fresh and delightful entrée.
2. Add an Asian Twist
Global cuisines are trending on menus across dayparts, with chefs finding creative ways to incorporate international flavors into menu mainstays. Layering greens with common ingredients in Asian cuisines can refresh familiar dishes like salads. Edamame is a green, protein-rich addition that adds a savory crunch, and tahini is a creamy, oil-and-dairy-free alternative to traditional ranch or Caesar dressings. Serve a kicked-up salad entrée like this Kung Pao Turkey Salad featuring trending Asian flavors like bok choy and napa cabbage, with spicy Kung Pao dressing. And who says salads can only include veggies? Experiment with fruits like yuzu, an East Asian citrus, for a bright and tangy pop.
3.Boost the Protein
Edamame and marinated tofu are popular meat-free additions to salads, while a lean protein like turkey is a great match for health-conscious meat-eaters. Turkey is a delicious and versatile option that can be used across dayparts and helps diners include protein in their salads while meeting their health goals. Switch up a classic with a unique variation on the Caesar salad, Grilled Turkey Breast with Spring Kale Caesar starring grilled chipotle turkey breast served warm over a bed of crisp greens. Eye-catching and on-trend, this Mesquite Smoked Turkey and Red Quinoa Sedona Salad is a protein-packed addition to your lunch or dinner menu with unique ingredients like pomegranate vinaigrette and smoky mesquite turkey. Or breathe life into your spinach salad with the refreshing tartness of green apple vinaigrette and succulent smoked turkey for a medley of irresistible flavors and textures in this Spinach Salad with Smoked Turkey Green Apple Vinaigrette.
Playing into fresh salad trends is the perfect way to give diners healthy and satisfying menu options. How will you level up your salad game? Let us know on our Facebook or LinkedIn pages, and visit our Resource Center for more tips and trends.
Sources: