The Weight is Over: Guests Are Ready to Get Healthy
June 2021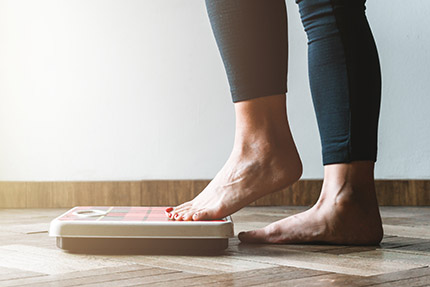 The last year has been a challenging one, to say the least. As consumers worked through the height of the pandemic and took on all kinds of adversity together, their new priorities often put healthy eating and exercise on the backburner. According to a survey conducted in February 2021 by The Harris Poll, 61% of consumers have experienced undesired weight changes since the pandemic started, with 42% reporting they gained more weight than they intended.
This certainly adds up when considering that during the pandemic, about 14% of consumers said they would describe their away-from-home eating behavior as unhealthy. As a result, 57% of consumers said that their New Year's resolution for 2021 was to improve their health and/or lose weight.
As dining restrictions ease, the summer months approach and people get out and about more, there are lots of signs pointing to smarter choices being the apple of the consumers' eye.
According to Technomic, only 34% of consumers say that they are happy with their health, and 24% say that they are happy with their weight. This dissatisfaction is leading to a desire for change, especially as diners look to make smarter choices when eating out. When asked what claims they look for when considering healthy menu items, 45% of consumers say natural ingredients, 28% say calorie count and 24% say low carb. Additionally, 34% of consumers look specifically at protein when consuming foods and beverages. As far as the top health claim across segments, gluten-free takes the cake with its dietary and allergy benefits.
The good news is you can deliver on all the above consumer demands by simply bringing more turkey into the mix. It's a delicious, lean protein available in formats that work beautifully across the menu, from apps and sides to salads and burgers.
Empower your customers to meet their flavor and dietary goals by not only offering turkey substitutes for beef and pork, but also invigorating your menu with tempting and unexpected turkey dishes.
Offer this Mediterranean Turkey Burger to help your guests indulge without the regret.
Add global flair and help your guests check the "low-carb" and "low-cal" boxes with Singapore Meatballs and Noodles.
Draw customers to the appetizer menu by keeping the fat, calories and carbs down with the exciting Banh Mi Turkey Wraps.
Give your patrons a new favorite with this intriguing and interactive Grilled Sesame Turkey Kebab that also happens to be gluten-free, low in carbs and low in fat.
Have you noticed your customers craving more health-conscious choices? Share your observations and ideas on our Facebook or LinkedIn page. Or visit our Resource Center for more insight and inspiration.
SOURCES
COVID-19 Report 43: Optimistically Cautious, Datassential, January 2021.
Healthy Eating Consumer Trend Report, Technomic, 2020.