How to Create Innovative Dishes Diners Crave
May 2021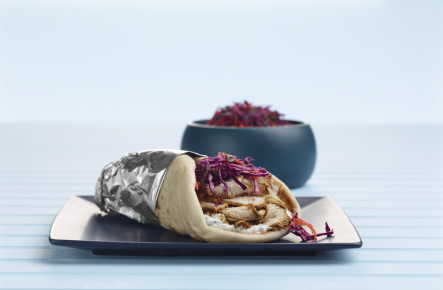 The resurgence of familiar flavors and comfort foods over the past year comes as no surprise. Consumers have been craving feel-good foods, both in retail and on restaurant menus—but that doesn't mean there's no room for innovation.
Now especially, the idea of innovating the menu might seem intimidating. With so many passing trends, it can be challenging to know where to start. Understanding diner demographics—along with what types of new menu items they're seeking—can be the key to unlocking traffic-driving menu items.
Overall, diners are looking for new twists and innovations in four common menu areas: appetizers, burgers, salads and sandwiches. Within these categories, interest level varies based on generation. Here's a closer look at the insights and recipe inspiration to match.
Appetizers: A Great Place to Start
Amp up your apps with spicier flavors to appeal to Gen Z—60% of this demographic prefers Mexican foods. Try Loaded Turkey Nachos with Tajin Crema or Turkey Tostones, both featuring a combination of sweet, spicy and zesty flavors with a turkey twist.
Burgers: A Taste Tour
Burgers are a menu staple, with 70% of boomers, 83% of Gen X and Gen Z, and 86% of millennials ordering them at least once a month. Cater to the biggest burger fans, millennials, by bringing regional flavors to the bun. 63% of them prefer foods with regional American flair, so this Turkey Patty Melt, savory Hawaiian Turkey Burger and zingy Buffalo Turkey Burger are perfect picks.
Salads: Toss it Up
Turn any bed of lettuce into a bright and delicious menu item that diners look forward to, especially boomers. This generation seeks salad innovation the most, and nearly 70% prefer Chinese cuisine. That makes this Kung Pao Turkey Salad an inspiring menu option. The Green Goddess Pasta Salad (great as an entrée or side) and Baja Turkey Salad Wrap are other ways to add interest with fun flavors and formats.
Sandwiches: Bring New Flavor Between the Bread
Sandwiches are a familiar menu item that make a great testing ground for new ingredient combinations. Try a twist on a tradition with the Ugly Tomato BLTT, or get more adventurous with the Turkey Shawarma and Moroccan-Spiced Turkey Salad Sandwich. Millennials in particular enjoy trying new foods and are looking for sandwich innovations, so these options could be especially appealing to this eager demographic.
From appetizers to entrées, any menu item can reach flavorful new heights when turkey is the star. Whether the menu needs healthier options or a simple protein switch-up, turkey is a must-have for innovation.
Feeling inspired? Share your menu innovations on our Facebook or LinkedIn page. For more insights and ideas, visit our Resource Center.
SOURCES
COVID-19 Report 47: A Shot in the Arm, Datassential, February 2021.
Generational Report, Technomic, 2020.